Get to know Andrew Widdicombe and his journey from working as a Belgravia Leisure lifeguard at Cook + Phillip Park Aquatic Centre to now working as centre manager at Andrew (Boy) Charlton Pool.
When and where did you start working with Belgravia Leisure?
I was working as a lifeguard at Cook + Phillip Park Aquatic Centre before Belgravia transitioned into the City of Sydney contract. When they transitioned into the contract at the beginning of 2016, I was focused on my university studies and never anticipated that my career would progress the way it has. However, the longer I worked for Belgravia, the more invested and interested I became in a career in Health and Leisure.
How has your career progressed?
My career progression has been really enjoyable and the skills that I have learnt throughout my journey with Belgravia have been fundamentally useful in developing who I am today.
After working as a part of the lifeguard team, it was natural to progress to a Duty Manager position. From here, I was able to gain further insight into the day to day running of a large aquatic facility. I consider the Duty Manager position foundational in developing the essential skills required to be a successful Centre Manager.
I then took on further responsibilities as an Operations Supervisor at the beginning of 2018, where I was again able to learn more about the operational functionality of the centre. Finally, in March of 2019, I progressed to the Centre Manager position at Andrew (Boy) Charlton Pool. I am absolutely loving the work I am doing in promoting water safety and providing access to world-class facilities to the community.
What do you attribute your career progression to?
I believe the commitment, dedication and hard-working nature I learnt as a Surf Lifesaver has shaped the way that I approach my professional career. These attributes have enabled me to progress my career, and I am hopeful that I am able to keep growing professionally with Belgravia Leisure.
What is the best/worst part of being a centre manager?
The best part of my career is continually learning and experiencing new things each day. Further, working with a passionate and driven team to achieve a collective goal motivates me to come into work each day and put my best foot forward.
Why is water safety important to you and your team?
Living in Australia and growing up around the ocean and pools has made me aware of the potential risks associated with these environments.
The ocean, pools and water are an integral part of Australia society and culture. Working as a lifeguard, I have witnessed these risks and developed a strong passion for increasing water safety awareness throughout communities so people can safely enjoy these integral parts of Australian society.
What qualities do you look for​ in your team?
When I was building my team for the 19/20 season, it was important to me that my staff shared this same passion and enthusiasm for water safety.
I also wanted a team that was hard-working, engaged, would put the customer first and would genuinely be supportive of the customer's needs and ensure each experience they had at the centre was an enjoyable one.
Any career advice for anyone wanting to follow a similar career path? ​
If somebody was looking to follow a similar career path I would suggest that if you are passionate and willing to work hard, then nothing is out of your reach.
Take every opportunity you are given, grow and learn as much as possible and don't be afraid to put yourself out there.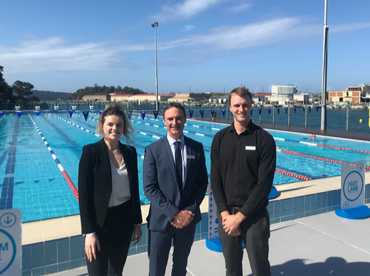 Click Here to watch Andrew in our last Belgravia Live with CEO Nick Cox at Andrew (Boy) Charlton Pool.