Twice a year Belgravia Group audits safety across the businesses. With October Safety Month now underway, it's important to conduct a safety audit of the business you manage.
Working closely with Safework Australia, Belgravia Group is encouraging people who work with us to become a Safety Champion for the month of October.
The theme for this October's National Safe Work Month is 'Be a Safety Champion'.
This year's theme demonstrates that anyone, both employers and workers from any occupation or industry can be a champion for work health and safety.
Everyone can support a safety culture at their workplace and promote best practice work health and safety initiatives.
We can all strive to Be a Safety Champion at work this October.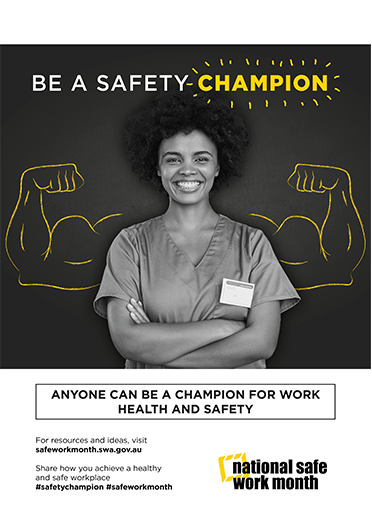 Safework Australia has compiled a range of kits and information to help all of our business managers at Belgravia Group to help spread the message about workplace safety.
You can access a range of campaign materials to help you take part in this year's National Safe Work Month. Show how you are a safety champion at your workplace and promote and foster a positive work health and safety culture.
A safe workplace is paramount for all employees and visitors to our centres, said Belgravia Leisure CEO, Nick Cox.
"A healthy, vibrant workplace is the cornerstone of our business. A safe workplace allows our teams to administer our programs effectively and ensures everyone who visits our centres can be assured their safety is paramount," Mr Cox wrote in this month's B-Informed.
"As part of creating our culture around safety, we systematically respond to work health and safety complaints swiftly. We also talk to frontline employees and find out about the day to day running of the business and other matters not usually discussed in board meetings."
Whilst we all have a responsibility to create a safe environment around us, there a few basics that will help ensure the safety of you and your team members.
Think Safe – think before you act
Act Safe – Make sure it's safe to do or don't do it
Be Safe – Look out for yourself, your team, visitors and guests
As always, being safe is about taking responsibility for those around you and yourself. Better yet, become a Safety Champion this month – your workplace, guests and team members will all benefit in a positive way.
Please click here to visit B-Connected for our Lifeguard Supervision Training (ALiST) Launch Resources.