Members from our Queensland team gave up some of their time and headed to the Queensland Children's Hospital on Tuesday 17th of December to spread some Christmas cheer to the kids!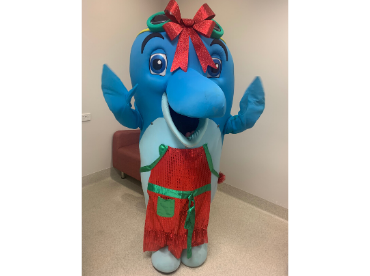 Armed with the Swimming Australia Dolphin, many presents and a few extra surprises for family members, the team really lit up the hospital to celebrate the festive season. Cheryl McLennan worked hard in the lead up to secure a number of items from some very generous sponsors, including:
GOswim Backpacks — Albany Creek Leisure Centre
Swimming picture book — Laurie Lawrence
Speedo Goggles — Australian Swim Teachers Association
Zoggs Goggles — North Lakes Aquatic Centre
Candy Canes & Lollie Pops — Albany Creek Leisure Centre & Dan Cullen
Water Bottles — Gatorade
McDonalds Vouchers — Albany Creek McDonalds
All of the children loved engaging, dancing and singing with the dolphin and our team. We hope that all the children and their families have a very Merry Christmas and a Happy New Year! The team can't wait to go back again next year.