When the Belgravia Leisure Contact Centre was first introduced in February 2019, it consisted of a handful of team members sitting around a table with mobile phones with a primary focus on outbound calls to build customer relationships.
The value of the Contact Centre quickly became clear as we soon began to see results from taking such a personal approach to customer care. The contact centre expanded in its current premises at Windy Hill and now manages outbound and inbound activity, responses to centre-specific social media pages, website enquiries and membership and swim school enquiries.
The team at the Windy Hill Contact Centre was invaluable through the upheaval and uncertainty surrounding COVID-19, assisting venues with customer support at a time when our members were understandably confused and sometimes angry about the changes that Belgravia Leisure had been directed to implement by state and federal government.
Here's a snapshot of the numbers of calls and enquiries that the Windy Hill Contact Centre fielded between the period of 23rd March to the 31st of May.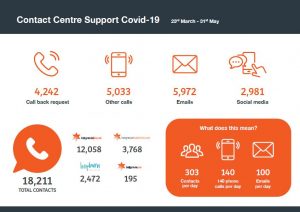 Now, on the back of the successful implementation of the Victorian Contact Centre, the team is expanding to Whitlam Leisure Centre where a New South Wales based team will operate.
"We're excited to be able to build on the success in Victoria and replicate the goals of providing exceptional service and an excellent guest experience in New South Wales," said Tim Hutchison, Guest Experience Manager. "We have seen the team in Victoria go above and beyond to hit their targets in the last year and we are keen to see how we can continue to improve our guest experience in the future."
Expression of Interest
If you are interested in these exciting opportunities or would like to know more, please submit your expression of interest to Scott Vanderheyden.
Please email Scott here: svanderheyden@belgravialeisure.com.au