Harrison has been working with Belgravia Leisure for the past three years and says it was the best career decision he's ever made. Harrison works as a swim teacher at Lawnton Aquatic Centre, managed by Belgravia Leisure on behalf of Moreton Bay Regional Council.
Harrison was recently awarded the Queensland AUSTSWIM Teacher of Swimming and Water Safety at the 2021/2022 AUSTSWIM Awards.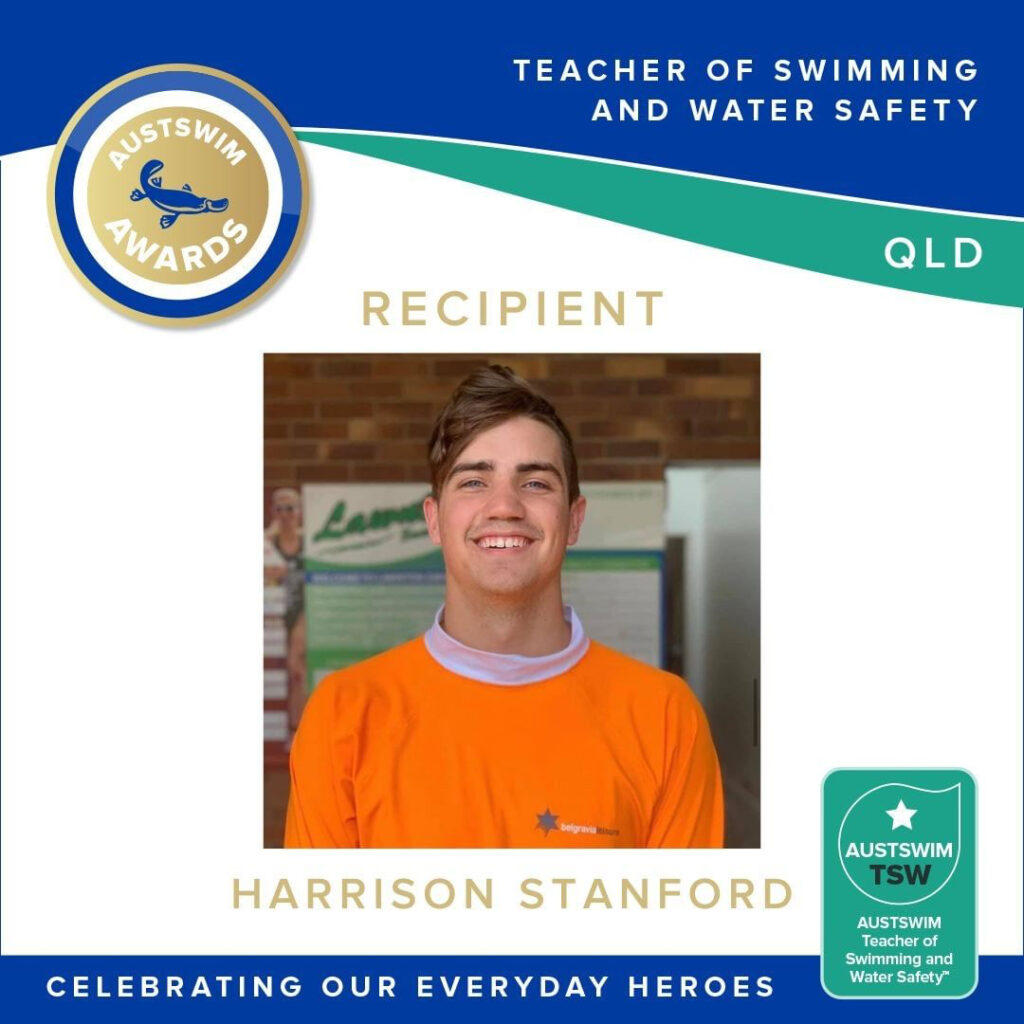 "Moving to work at Lawnton under Belgravia Leisure was the best decision I ever made, work-wise. I work with the best team, who made me feel very welcomed and supported. I have gained copious amounts of teaching experience and was awarded QLD AUSTSWIM Teacher of the Year this year, which has been the biggest highlight for me so far," Harrison said.
How have you, your team, or your venue been impacted by Covid-19 and what have you learned?
"Loss of work was our biggest struggle. As well as, coming back to work and having to readjust to the new "normal" was challenging. It took some time but we all learned a lot about one another during this pandemic, bringing us all closer together in spirit while obviously having to be more distant than ever, physically speaking.
"Adjusting to new styles of living, teaching, and interacting was difficult but, in the end, we overcame every hurdle," Harrison said.
What is your favourite and least favourite thing about your career?
"My least favourite experience was Covid causing me to lose work. Not being able to teach during that time was tough because I really missed it.
"My favourite thing has been getting to watch the kids grow and level up in their swimming. Seeing how happy it makes them when their hard work pays off is the most rewarding thing," Harrison said.
Where do you see yourself in the next three to five years?
"My passions are really aligned with giving back to the community. I love teaching but I have also been studying nursing at university. A nurse's work schedule can be quite gruelling, and so I think that by the time I graduate and start that journey, I'll have to separate myself from the Aquatic industry.
"It is such a shame to have to give up one thing to maintain another, but that's just how life works, unfortunately. Having said that, swimming will always be a big part of my history and I know there will always be a way back," Harrison said.
What are three things you're most passionate about in life and why?
"Swimming has been a massive part of my life for many years now. I was a competitive swimmer during my high school years, even making it to Nationals. My love for the sport has never once waivered, which is why I've enjoyed my time in the industry so much.
"Outside of that world, I am currently studying Nursing at QUT, as I mentioned earlier. I love it and plan to move into this after completing my degree. I am passionate about helping people and I'd like to think I'm a caring person by nature.
"On a more personal note, I'm also a big Marvel fan, like so many people with great taste. That cinematic universe has brought me endless hours of entertainment and I'm the kind of person who would rewatch them all on repeat. If only I had spare time," Harrison said.
What does sustainability mean to you?
"To me, sustainability means many things depending on the context. In essence, I understand it as the method of meeting your own needs without compromising the abilities of future generations from meeting their own.
"Environmentally speaking, sustainability is about minimising waste and maintaining a careful consideration for the environment. It's about making ethical choices, big and small, and advocating for better alternatives.
"In the aquatic industry though, it's about leaving the workplace culture better than you found it by making positive, long-standing contributions to its programs, its customers, and to your team.
I would like to conclude by saying that swimming is one of the most important skills for children and adults to have, especially since we live in a country surrounded by water. I believe everyone should be given at least the chance to learn the basics of how to swim and stay safe around the water.
"I'd also like to take a moment to acknowledge my team at Lawnton Aquatic Centre for fostering such a great working environment and for always advocating for the importance of swimming lessons. We're all so passionate, and without that passion, our swimmers wouldn't be half as well off," Harrison concluded.