Day three of the Get Connected Conference involved an excellent session giving "Feedback that Doesn't Suck!" from our Group Manager Learning and Experience, Samantha Mueller and Keynote Speaker, Georgia Murch.
We gained a better understanding of why we avoid giving feedback or react poorly ourselves when receiving it. In this session, we gained top tips to make feedback so much easier so it doesn't have to suck!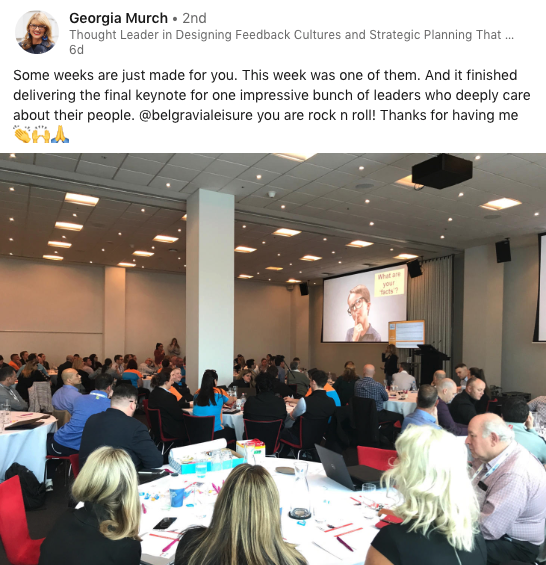 Key Messages Included
1. Conversations not Accusations (seek to understand)
2. 4 positive to 1 gap feedback (high-performance teams)
3. Spot fires not bush fires (act early)
Group Manager, People and Culture, Mark Maybury says "we continue on our journey to embed a feedback culture that builds trust and support of being ourselves and being REAL!"
Contract Management and Partner Relationships 
After an energy break and some great energy from the Belgravia crew, we moved onto Contract Management and Partner Relationships with Scott McDonald, Anthony McIntosh and Kris Miller.
During this session, we learned the importance of understanding your facility's contract and delivering on it. This session took us through the step by step journey of a typical contract where we learned how to develop a summary of the key areas you and your team need to deliver on.
The session talked to the role of networking and informing the government of our solutions.
The Role of the Centre Manager
Through centre manager focus groups we collected insights about the challenges faced by centre managers in their role. This interactive session was a great way to bring the broader group of centre managers at the conference to be part of driving solutions to issues commonly faced by our leaders.
Nick Cox and the Executive Leadership Team then wrapped up the fun and informative three-day conference.