Science has shown that resistance training – exercising against external resistance such as weights or even your own body – is the secret to easier fat loss, increased bone strength and a longer, healthier lifespan. 
But many think of it as something you do in a gym in the weights area and find the idea intimidating. What they don't realise is that many Belgravia Leisure facilities have classes based on resistance training, called BodyPump. 
For those who aren't inclined towards training by themselves on the gym floor with the weights and machines, or who don't want to invest in a personal trainer, this is a fantastic solution. 
BodyPump classes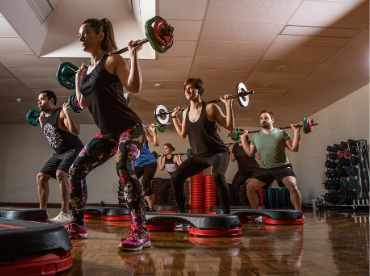 BodyPump is a choreographed class that synchronises strength and resistance training to upbeat, motivating music for an hour. It's fun, it's popular worldwide and it's a great way to train with other people without the pressure of competition or needing to be really fit to get started. 
Everyday life sees us connected digitally at every minute, but research reveals that many of us feel lonelier than ever. The beauty of training in group environments is that we don't need to know each other or have anything in common, other than a desire to work out and commit to an hour of movement to music. The classes are conducted by highly trained instructors who provide guidance around technique and the purpose of the class and the moves. 
"BodyPump is a full-body workout," says Marianne Saada, a BodyPump and group fitness instructor at Ascot Vale Leisure Centre in Victoria.  
"We start with a warm-up, which prepares the whole body. Every 5 minutes, you focus on legs and back, arms and chest. We work to music, so the music plays a huge role in the program. It's coordinated to the beat of the music. It's great for increased strength and definition, but ultimately, for overall fitness and health." 
Choose your difficulty level
BodyPump classes enable participants to choose the level of challenge according to their experience, current fitness levels, any existing injuries or conditions, and how they feel at the time. 
By using smaller weight plates, the class becomes less challenging. This is ideal for beginners or those returning to fitness training after a long break. By choosing bigger weights and making the barbell heavier, the workout becomes a much greater challenge and provides greater cardio and strength benefits through increased heart rate, muscle fibre engagement and caloric expenditure. 
BodyPump is consistent
Because BodyPump classes are choreographed, participants can be assured that the structure of the class is always the same, even when the music or instructor changes. Whether you do the class in Ascot Vale or somewhere in Singapore, America or Britain, the 60-minute class starts with a warm-up, it continues to work each major muscle group for 5 minutes and then ends with a cool-down track.  
If you're pressed for time, there are express versions of the class, which typically run at lunchtimes and before work hours for 45 minutes.  
Many participants have come to know their instructor and fellow BodyPump class participants. "People form friendships in BodyPump classes and it's a really inviting, upbeat atmosphere," says Marianne. 
"BodyPump is one of the most popular programs on any timetable, both Belgravia and other places. It's a program that really attracts all ages. It's also great for females especially, who don't want to work on the gym floor by themselves and prefer to get their full-body strength training in a social, group class environment." 
How often should you train?
According to Victoria's Better Health Channel, resistance training offers the maximum health benefits when you commit to two or three times a week. It's ideal to rest each muscle group trained for a minimum of 48 hours to allow the muscles to repair and grow in strength and size. This means if you're doing BodyPump as your primary source of resistance training, you should allow a day or two between classes to fully recover. The days where you don't engage in resistance training could be devoted to walking, running, dancing, cycling, swimming or yoga. 
What to eat before BodyPump
Ideally, a carbohydrate- and protein-balanced snack an hour to half an hour before training will give you a boost of energy to train – peanut butter on sliced apple or Greek yoghurt with a handful of berries, for example. Follow with a protein- and calcium-rich snack after class, which could be yoghurt or a low-fat milkshake. 
BodyPump's benefits
Far from just burning calories during the class and enhancing your body's ability to burn calories for at least 48 hours after training, resistance training improves bone density, joint function, tendon and ligament strength, and coordination.  
After the age of 30, both men and women benefit from workouts to improve their bone strength and ensuring their diets support healthy bones, too. 
Resistance training is also proven to improve sleep, increase self-esteem and confidence, decrease the risk of injury in everyday life, as well as prevent diabetes, heart disease, arthritis, back pain and depression.  
There's even research to indicate that resistance training has a role to play in both preventing and reducing cognitive decline in older adults. This enables people to live an independent life for much longer, and pursue their interests and remain active well into old age. 
What equipment do you need?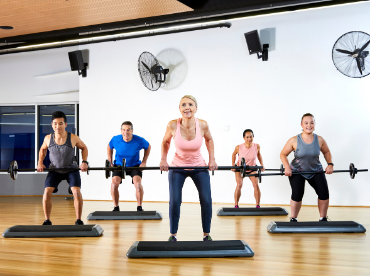 The beauty of BodyPump is that you only need to bring a couple of things with you, as the rest of the gear is provided. 
"People need to wear gym attire and we recommend a towel," says Marianne. "All the equipment is provided in class. This is a bench, a barbell and free weights so that people can choose the level of resistance. So people can just show up with their bottle of water and a towel."
Tips for your first BodyPump class
Arrive 5-10 minutes before the scheduled start of class with a towel and water bottle.

 

Let the instructor know it's your first class and tell them if there's anything you think they should be aware of (illness or injury).

Set up your bench, barbell and weights.

 

Follow the instructions and focus on technique rather than making your barbell heavy.

 

Let the instructor know if you found anything confusing or experienced any joint pain, so they can go through the techniques or modifications with you.

 

Allow your body to recover for a couple of days before returning to do it again.