Belgravia Leisure is proud to announce this year's Your New Beginning (YNB) challenge winners. Each winner and runner up has worked incredibly hard to reach their health and fitness goals. Our national winners have each won a $2,500 Flight Centre voucher and our runners up have each won a $1,500 Flight Centre voucher. Congratulations to all our winners, as well as our participants right across Australia.
This year's winners are from Melbourne, Brisbane and Perth.
YNB is a 12-week challenge that helps our health club members kick-start a new start! Everyone has a different reason to get back in the gym, but everyone shares the common goal of wanting to take back control of their life. Having an active and healthy lifestyle is the foundation to getting more out of life. YNB will be on again at Belgravia Leisure managed health clubs in February 2018.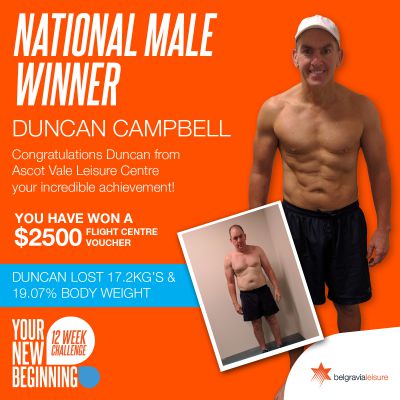 Congratulations to Duncan Campbell for winning the national YNB challenge. He used to start his day with energy drinks, but the sugary boost led to weight gain and affected his concentration. "I had gained more weight and lost my ability to mentally focus…my self-esteem was at an all-time low."
YNB gave Duncan the kick-start he needed to turn his life around. "Two things happened in my life to give me the motivation to change. First, my doctor told me to lose weight. Second, my father had a heart attack and needed a coronary stent inserted into him."
Duncan has lost over 17 kilos. "I am just a normal bloke who wanted to change and YNB has given me a fresh start. If I can do it, so can you."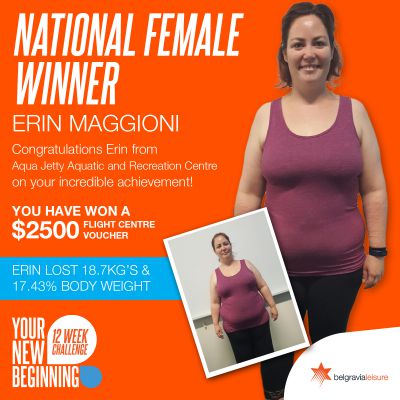 Congratulations to Erin Maggioni for winning the national Your New Beginning challenge.
"In 12 weeks short weeks I have transformed from someone who could barely walk around the block and was facing health issues associated with obesity, to someone who has reversed previous damage done… The challenge has given me a massive kick-start to a happier and healthier life."
Erin has lost over 18 kilos thanks to her hard work and commitment to turning her life around. Your story is truly inspiring Erin and we are so proud of you!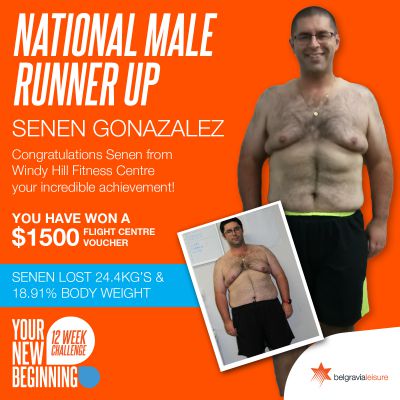 Congratulations to Senen Gonazalez for winning a national runners up prize for the Your New Beginning challenge. His wife recommended he try the challenge.
"I was about to venture into the unknown, I felt vulnerable and didn't like that feeling…This was a big step for me as I had never liked gyms…I wasn't a gym junkie, I hated exercise."
Senen's reasons for avoiding the gym are very common, but so too is his outlook after successfully completing the 12-week challenge.
"I gave it a go and decided no matter what, I would stick at it with no excuses and do my best. It was really hard at the beginning…but it started getting easier."
Congratulations Senen for losing an incredible 24.4 kilos and gaining a new lease on life.