Bringing community events to our regional pools in South Australia has been a focus for Belgravia Leisure's SA team for the last 18 months. After purchasing a movie screen that could be used as a centrepiece to these events and used across the rest of the state facilities, the first movie night was a great success.
The Riverland community of Loxton flocked to Loxton Swimming Pool for a bushfire fundraiser, with over 100 people in attendance. With fun pool inflatables for the kids and a screening of Ralf Breaks the Internet it was a great event that brought the community together and raised $400 for the Country Fire Service.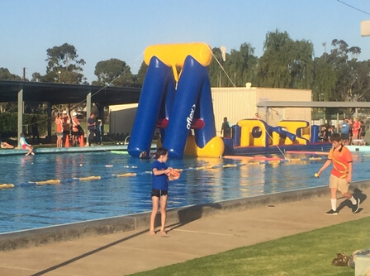 "These events in our regional towns are significant for the people that live in them and the social value and connection it brings to our facilities cannot be understated," said Belgravia Leisure's SA Regional Manager, Craig Wilson.
"We have a roadshow of movie nights happening in the Riverland Region over the next month and envisage the continued success and growth of these with yiros, donut and coffee vans booked in, pool inflatables added for entertainment and again supporting local sporting clubs to bring the community together," Wilson added.
All these events are a bushfire fundraiser with all proceed to go to the CFS.