The lucky residents of Ooralea, Queensland were treated to a free Australia Day Weekend Pool Party sponsored by Hit FM and held at the Mackay Aquatic and Recreation Complex on the 25th of January. Entry was free for everyone and included fun games, a free barbeque and giveaways!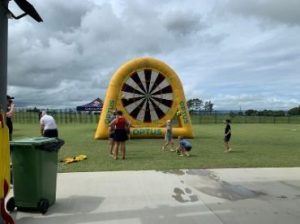 All three pools at the facility were open for guests to enjoy, and an estimated 2000 people attended the event, many of whom had never previously been to the Mackay Aquatic and Recreation Complex. The one-day event boosted café revenue at the facility by 200%!
There were also 20 new Learn to Swim sign-ups on the day, with many visitors eager to revisit the aquatic complex again on a regular basis. There was also a deep-water running class held that gave visitors a taste of the types of activities in which they could participate in at the complex.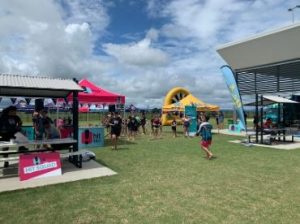 "The massive inflatable obstacle course was a hit with the kids and the Optus movie truck at the back of the 25m pool was perfect for the event. It has inspired us to plan some dive-ins in the future!" said Belgravia Leisure's Queensland Marketing Coordinator, Sidney Abbott.
Several competitions were held on the day including Thong Throwing, Egg and Spoon Races, Eat the Cookie into the Shape of Australia, Giant Darts and many more. Thankfully the beautiful weather held for the duration of the event and a great day was had by all.