On Wednesday, 10 August, Franklin Pool and Leisure in Pukekohe, New Zealand, appeared on the flagship weeknight news programme, Whakaata Māori, to celebrate the launch of their Māori language swimming classes.
Franklin Pool and Leisure, managed by Belgravia Leisure on behalf of Auckland Council, featured in episode 28, Te Ao Mārama, to discuss their Te Reo Māori swimming lessons on Tuesdays and Thursdays for toddlers and young children.
The swimming lessons commenced as a way to bring more Reo (the Māori word for language) into the venue with the hope that not just Māori but the broader community in Franklin will embrace the language.
The program allows children to experience the best of both worlds, the joy of learning water safety, and Te Reo Māori.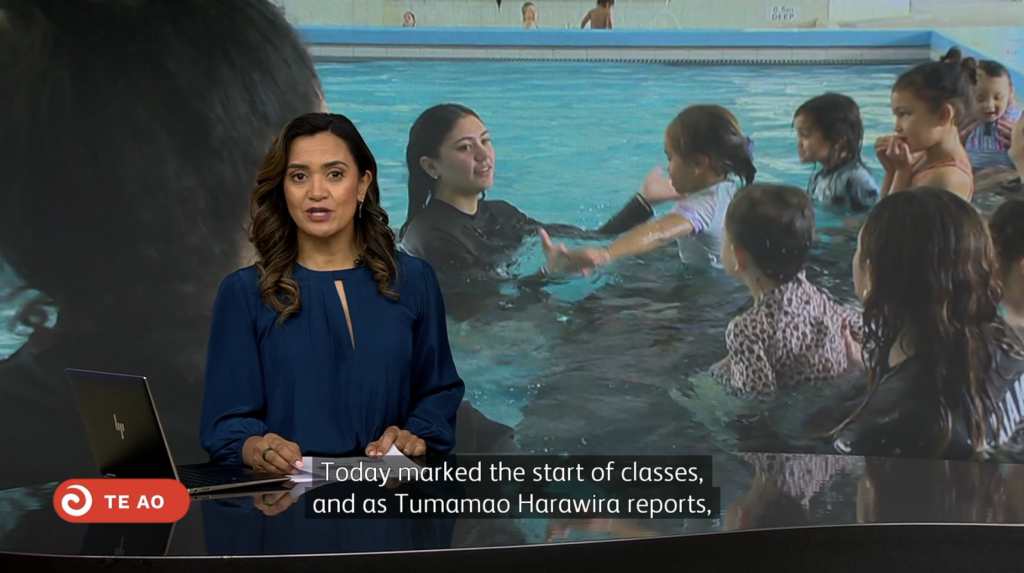 Hilarie Legg, Venue Manager at Franklin Pool and Leisure said it's a way of expanding the business and boosting inclusivity. "It's really important as a community that we have as much multi-language in our facility as possible.
"After discussions with the team and community, we decided to offer multi-language swimming lessons. We found two incredible teachers to run the lessons and we are really excited to have the classes start," Ms Legg said.
Watch the segment on Whakaata Māori below.
Mark Blake, Belgravia Leisure's General Manager New Zealand said, "The team at Franklin work hard to ensure their program offerings directly reflect the community's needs.
"Additionally at Belgravia Leisure, we are working hard to be both inclusive of everybody whilst also supporting our cultural history. Many people in Aotearoa are working hard to see Te Reo used more widely, as it is one of two official languages in Aotearoa. These lessons are just a small contribution from Belgravia Leisure to help the growth of Te Reo continue and I think the team has done a fantastic job," Mr Blake concluded.
The Māori language swimming classes take place on Tuesdays and Thursdays for children ranging in age from six months to young children. For more information please visit the Franklin Pool and Leisure website here.
Story Credit: Tumamao Harawira for Whakaata Māori.