Belgravia Leisure and sister company, Belgravia PRO have come together (but apart, due to social distancing) to get their hands dirty and partake in undertaking some much needed TLC on the grounds and gardens at Ocean Beach Tourist Park.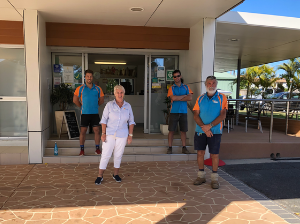 Venue Manager at Cleveland Aquatic Centre, Ashley Langbein and Venue Manager at Nerang Aquatic Centre, Mark Sywak put their hands up to help out with some jobs outside their usual line of work, in order to support their sister company, PRO.
After a brief site induction, the boys were quickly out working with Park Manager, John Palmer to undergo some weeding, trimming hedges and laying mulch in and around the seaside cabins.
Joint Park Manager, Sue Palmer said, "It was so nice to have some assistance on the bigger projects. We've been doing our best to keep the park open and presented as best we can for essential guests. It was great to have Ash and Mark lend a hand as we gear up for opening to holiday guests from the 13th of June. They did a great job!"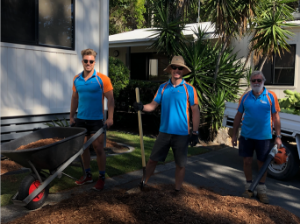 Area Manager, Gary Baldwin said, "I knew when we put the call out we would get a positive response but I was still very proud of the attitude shown by our teams. The response was simple, 'what time do you want us there?' Both Mark and Ash have vowed to be back next week to finish the job."
It's great to see our team members doing their best to support each other in any way possible, including partaking in different duties than usual. Great work team!