Belgravia Leisure's survey released on 29th May 2020 polled over 6,000 members to determine levels of concern over COVID-19 within a leisure environment. The survey was created to provide members with the opportunity to voice their concerns and to provide Belgravia Leisure with insights into member sentiment on returning to their facilities.
Speaking of the results, Belgravia Leisure CEO Nick Cox said, "We knew that when we began to reopen our facilities, the health and wellbeing of our staff and communities would be paramount."
"Having such clear data from so many loyal members has further fuelled our vigilance towards ensuring that every person who comes back feels supported and safe and that our staff are equipped to respond to member concerns as we open more of our doors amidst varying restrictions state by state in the days, weeks and months ahead," Mr Cox continued.
"Whilst challenging for everyone, I feel comfort knowing that every staff member will complete our mandatory COVID Safe Training prior to reopening" Mr Cox concluded.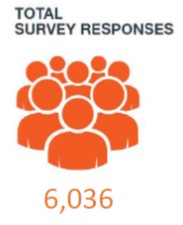 "I have every faith that if rules are followed, and it is ok for me to come back, I will more than likely do that." – Anonymous
"My main concern is being around other people of the public and having to trust that they will do the right thing with regard to social distancing and personal hygiene." – Anonymous
To date, a total of 6,036 members have responded to the survey from Belgravia Leisure managed facilities throughout Australia and New Zealand. The members surveyed ranged in age from under 20 to over 70 with 97% current members who had not cancelled their memberships due to COVID-19.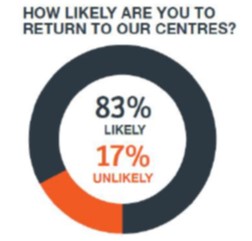 83% of members surveyed were likely to return to facilities when they reopened after COVID-19 restrictions were lifted.
"Cannot wait for you to reopen. I see minimal risk in going to the centres for a swim. Any risk is more than offset by increase in my mental and physical well-being from being able to swim daily and see the regular contacts and faces at the centre." – Anonymous
"I am sure the centre will be clean and hygienic. I am less sure that people will be able to socially distance. 1.5m will not be enough when people are huffing and puffing." – Anonymous
17% of members surveyed reported concerns about a lack of social distancing and members turning up at the facility even when they are unwell.
"I'm in the vulnerable 70+ age range and I would like the centre to have a good plan in place to ensure that the vulnerable will not be placed in harm's way." – Anonymous
"I am immune compromised. I believe the facilities will be very clean, it is the other users I am concerned about and their behaviour in the pool" – Anonymous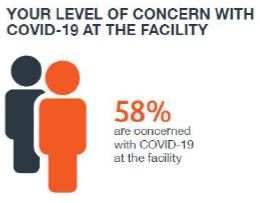 Out of all survey respondents, 58% were concerned about contracting COVID-19 at their local venue.
"Very concerned about being infected by the virus… Cleaning has to be an authorised health standard." – Anonymous
"My wife and I normally use the gym facilities only. This is the enclosed area with lots of contact. As both of us are in the high risk group, it would be a big concern for both of us to return at this moment since we need to take into account the possible 2nd wave and the use of the gym means there will be prolonged times of contact." – Anonymous
"Need to be reassured that strict social distancing can be maintained & that all gym equipment (bikes, treadmills etc) including Les Mills bar equipment & the free weights in the main Group exercise room are being sanitised after each use/class. I am in the CV 19 vulnerable age group. Would delay returning after opening to see how things went." – Anonymous
The other 42% of respondents were less concerned and trusted their local facilities to maintain proper sanitisation and hygiene standards.
"I really have no concerns because if people follow the rules we will be Ok." – Anonymous
"Not really concerned as I know the centre are doing all they can to make it safe." – Anonymous
"I believe the management of the facility are very competent and would have covered all areas of the complex to make it safe for the members." – Anonymous

The survey found that there was a strong correlation between the states that were the hardest hit by COVID-19 (Victoria and New South Wales). The sentiment recorded in the survey reflected the prevailing concerns around a second wave of infections throughout the state.
Following the results of the survey, Belgravia Leisure has mapped the following actionable outcomes in addition the already comprehensive COVID-19 risk mitigation framework:
Traceability – Everyone who comes to our facilities is traceable through our booking process.
Transparency – With frequent customer communication about the numerous changes upon reopening, all designed to ensure safety and well-being for everyone.
Highest Standard Cleaning – The highest standard of cleanliness and hygiene with increased routine cleaning of frequently touched surfaces and areas.
Increased Hygiene Sanitising Stations – Available throughout facilities.
Strict Social Distancing – We will be actively enforcing physical distancing, empowering team members to understand capacity to maintain 1.5 metre distancing rules.
Increased Signage – Displaying health advice, providing appropriate space for customers to enjoy access while restricting access to certain zones to ensure capacity limits are met.
Cashless 'Tap and Go' Payments – To help prevent the spread of Coronavirus and create faster service at front desks.
Customer Support – We are rapidly expanding our Contact Centre with a dedicated COVID Hotline to improve customer query response time and help members get back into their exercise routine.