Yawa Aquatic Centre has won the award for 'Community Facility of the Year' at the 2022 Parks & Leisure Australia Awards of Excellence.
This community facility award recognises facilities demonstrating innovative features of design, development and operation.
Mornington Peninsula Shire's nomination covered the building construction and the first six months of operations at Yawa.
Mayor Councillor Anthony Marsh said, "Yawa Aquatic Centre was many years in the making and a project our community was very excited about. We are very proud of this building and all those who work hard to make Yawa a place for everyone.
"It's a multipurpose and fully accessible facility for all to enjoy. We currently have over 4,000 members and over 2,100 students enrolled in Learn to Swim – making Yawa the biggest facility being operated by Belgravia Leisure in Australia.
"The state-of-the-art facility was built in record time during the pandemic and opened in July 2021. It also has some amazing features, like 916 solar panels saving 400 tonnes of greenhouse gas per year, and 100,000 litres of rainwater captured to top up pools."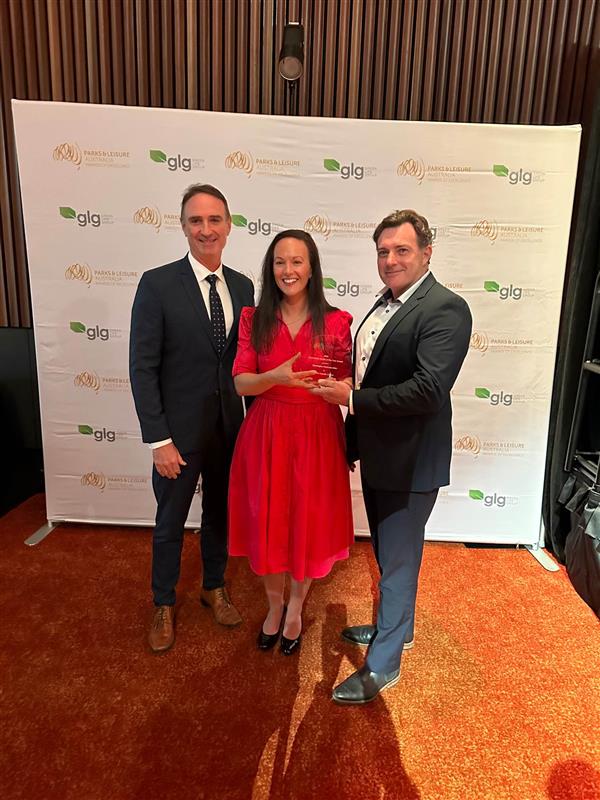 Belgravia Leisure's CEO Nick Cox (pictured on the far left) said, "Belgravia Leisure is proud of our partnership with Mornington Peninsula Shire that has been developed over the past five years and the outstanding success of Yawa since its opening.
"Our team have provided a range of innovative programs, tailored to meet the needs of the local community. The uptake of programs and services has exceeded our expectations.
"Over the next 12 months and beyond we are excited to continue providing a high level of service to our customers and make a positive impact on the health of the community," Mr Cox concluded.
Yawa is now up for the National Awards of Excellence, which will be announced by Parks & Leisure Australia later this year.
For all the latest Yawa news and information, follow Yawa Aquatic Centre on Facebook and Instagram, or visit yawa.com.au.