On Thursday, 9 February, the Victorian Aquatics and Recreation Industry came together for the inaugural Diversity and Inclusion in Leisure Forum, 2023.
The event attracted over 200 representatives from organisations supporting areas of our industry including Aquatics, Fitness and Leisure.
The day consisted of 14, short, TEDx-style presentations. Master of Ceremonies Brooke Hanson OLY OAM provided fabulous energy and engagement ensuring the delivery of a fantastic day of presentations.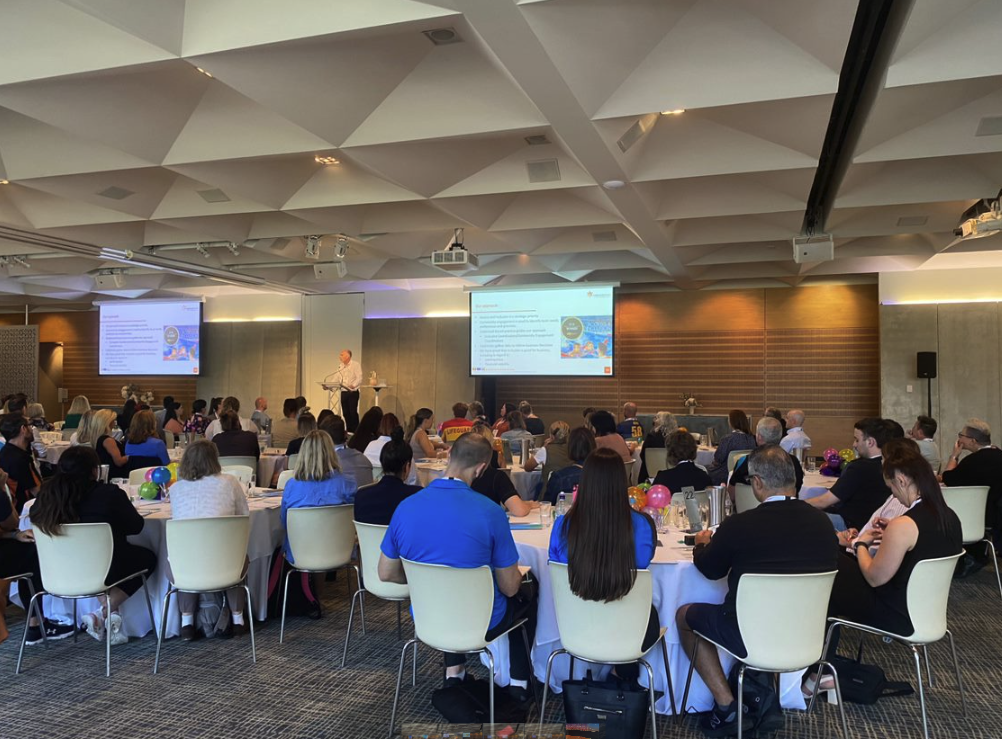 The event was designed and developed around the theme "Collaboration towards inclusion" by a Victorian Industry Advisory panel comprising a collaboration of industry representatives from local government, community organisations, industry management companies, research partners, state government and state and national peak organisations.
The program was informed by an industry survey that asked what industry needs and priorities were, and priority groups and industry areas requiring Diversity and Inclusion training, guidance and resources.
Presentations were all evidence-based and provided examples of successful initiatives that have supported the inclusion of key underrepresented groups within our Aquatic and Recreation facilities and services.
Presentations and Presenters:
Inclusion is Good for Business. Jeff Walkley, CEO, Belgravia Foundation
Victorian A&Rec Industry Access & Inclusion Guide. Jerome Parot, Manager Strategic Operations, Aquatics & Recreation Victoria
Cérge. Chris Kerrisk, Founder, Cérge
All In Aquatics Inclusion. Tayla Pallas, Aquatics Coordinator, Belgravia Foundation
Employment Supporting Workforce Diversity. Evan Strahan, LG & CSO, Kilsyth Centenary Pool
Y Streetball. Phoebe Dougall, Centre Coordinator, North Melbourne Community Centre
YouMeUs. Mala Doyle, Inclusion Officer-Disability, City of Greater Dandenong
Health Clubs & Cerebral Palsy. Georgia McKenzie, PhD Candidate, La Trobe University
M.A.T.E. (Making Aquatics a Terrific Experience.) Bradley Low, CEO, AUSTSWIM
Mental Health eLearning Program. Emma Lowe, National Access & Inclusion Coordinator, Belgravia Leisure
FitSkills Program. Professor Nora Shields, La Trobe University
Hydro Functional. Dr Sophie Heywood, Physiotherapist & Managing Director
LGBTIQA+ inclusion (Q Fit). Bridget Leroy, Community Activation, Active Merri-bek
All Abilities Program. Chris Alexander, General Manager, Industry Standards & Development, AUSactive
The day concluded with table workshops, enabling reflection on learnings and discussion regarding recommendations for the industry to be developed and implemented.
Industry feedback has already indicated a strong interest in both hosting the event again, and the need for other Industry inclusion and diversity activities in 2023 and 2024.
The Victorian Diversity and Inclusion and Leisure Forum 2023 was generously supported by the Belgravia Foundation, Mobility Plus and Bluefit.