The air was thick with excitement at Tobruk Memorial Pool on Friday the 1st of October as crowds gathered at the grandstands to celebrate the homecoming of Cairns' local legend and dual Tokyo Paralympic medalist Grant "Scooter" Patterson. The first 500 people who came through the doors at Tobruk Memorial Pool received a "Go Scooter" bandanna to commemorate the event.
Scooter Patterson – named because of the tricycle he rides everywhere – claimed two medals at this year's Tokyo Paralympics. Patterson had previously represented Australia at the 2012 London Games where he competed in two finals but unfortunately, did not win any medals.
In an interview with 4CA Radio, Cairns Mayor Bob Manning said, "This is the least we can do to recognise his amazing feats. What he has achieved, two Paralympic medals is remarkable and when you hear him talk you can't help but be inspired."
"I can't think of another person from this city who has won an individual Paralympic medal, nor captured the hearts of the world the way Scooter has done," he concluded.
The event kicked off with Patterson doing a lap of honour around Tobruk Pool on the back of a Harley trike while his swimming club stood to form a guard of honour.
Congratulatory video messages were played from Patterson's old high school, fellow Paralympian Ahmed Kelly and Dayne Zorko, captain of Patterson's favourite team the Brisbane Lions.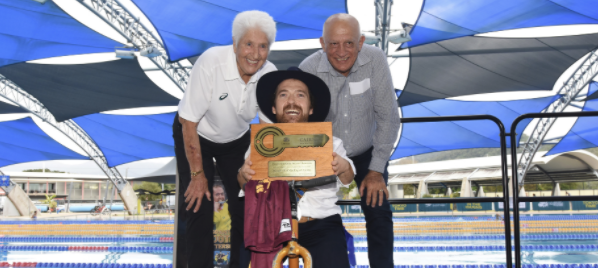 Four-time gold medal winner Dawn Fraser OAM presented Patterson with a lifetime membership to Tobruk Memorial Pool, gifted by Belgravia Leisure. He was also presented with the Keys to the City by Cairns Mayor Bob Manning and concluded the event by cutting a large cake bearing the iconic image of him biting his Paralympic silver medal.