Pickleball, the fastest-growing sport in Australia, is creating waves of excitement at Belgravia Leisure venues. As we gear up to celebrate World Pickleball Day on October 4th, we're excited to share the remarkable journey of Pickleball's rise in popularity.
At The F.A.R.M Centre in Freeling, South Australia, Venue Manager Ross Sharer recently shared some impressive statistics that highlight the sport's remarkable growth in recent years. 
Ross explained, "In July 2021, a local couple approached us with the idea of playing Pickleball on Tuesday mornings. Little did we know that this humble beginning would spark a wildfire of interest.
"By 2022, we had to introduce a Friday morning session to keep up with the surging demand. By early 2023, I saw an opportunity to further promote Pickleball, so I introduced a Tuesday night session, which was previously a quieter time at the venue. Though it had a slow start, the Tuesday night sessions are now filled with enthusiastic participants," Ross said.
What is Pickleball, you ask? Pickleball is a blend of badminton, ping-pong, and tennis, played on a court similar to badminton with a net similar to tennis. It's an engaging, all-ages sport that offers the best of these games in one package, and it can be played indoors or outdoors.
To cater to the growing interest, Ross and his team made a significant investment by adding four new Pickleball courts. Previously, players used badminton courts and nets, but the sport's consistent growth led to the decision to create dedicated courts complete with Pickleball lines and nets. The F.A.R.M Centre is now the first indoor Pickleball venue in South Australia with these specialised facilities.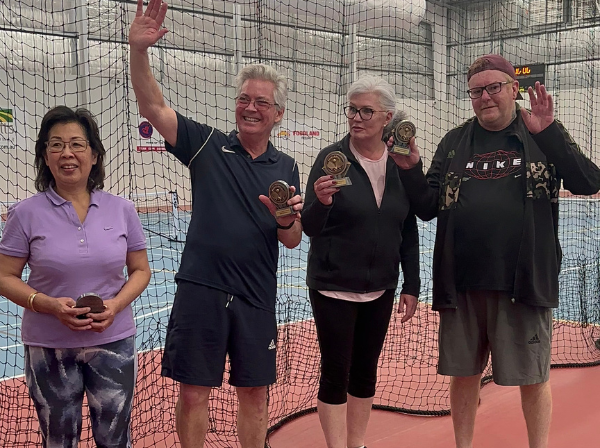 Some members of The F.A.R.M Centre in action at their local pickleball tournament.
In just two years, participation at The F.A.R.M Centre has skyrocketed, growing an incredible 375%, from 61 players in 2021 to 290 players to date.
South Pine Indoor Sports Centre in Queensland is another shining example of pickleball's rise in popularity. Regional Manager Zubran Nabi says, "Starting in May this year, we witnessed a phenomenal growth in Pickleball, with visits increasing from 62 per month to an astounding 452 in August, marking a remarkable 629% rise.
"Pickleball has even overtaken basketball in casual sports (as opposed to competitive) at the venue, showcasing its ability to draw in participants," Zubran explained.
Peter Herring, a pickleball enthusiast at South Pine Indoor Sports Centre, said, "If you've ever played any racket sports, you'll find pickleball a breeze to pick up. Age is no barrier, and there's always a friendly face in the group to welcome you and help you dive right in."
Pickleball's incredible growth extends beyond individual venues and is more than just a sport. It's a phenomenon that's bringing communities together, promoting health and wellbeing, and redefining leisure activities in Australia and New Zealand.
Belgravia Leisure is thrilled to be at the forefront of this movement, and we look forward to celebrating World Pickleball Day this October, knowing that the best has yet to come for this incredible sport.
Ready to explore pickleball at your local Belgravia Leisure venue? Find your preferred Pickleball destination from our list of participating venues and express your interest through their website.
Participating pickleball venues in Australia include The F.A.R.M Centre, South Pine Indoor Sports Centre, Civic Reserve Recreation Centre, Somerville Recreation Centre, Adelaide Hills Recreation Centre, The Rex Barossa Aquatic & Fitness, Waikerie Community Sports Centre, Yarra Centre, Heffron Centre, Michael Wenden Aquatic Centre, Singleton Heights Sports Centre and Cook & Phillip Park Pool.
Participating pickleball venues in New Zealand include Trust House Recreation Centre, Gallagher Recreation Centre and Franklin Pool and Leisure Centre.
If your local Belgravia Leisure venue doesn't currently offer pickleball, your interest could help make it a reality—enquire through your venue's website today!
Find a Belgravia Leisure venue near you here.