Swan Hill Leisure Centre, operated by Belgravia Leisure on behalf of Swan Hill Rural City Council, has partnered with application developer Cérge to introduce an in-venue communications platform to provide personalised service for patrons with a disability.
The Cérge app aims to reduce the fear, anxiety and discrimination individuals with disability endure as customers. While also removing the customer service guesswork for staff to provide personalised service to our members and guests with a disability.
A recent testimonial was left on the Swan Hill Leisure Centre Facebook page showcasing the value of the welcoming experience.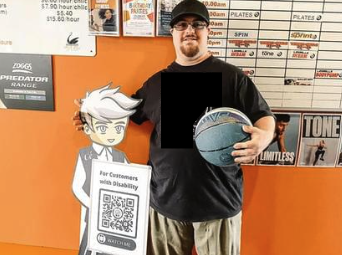 Disability Service, Accomplish Support left the following testimonial, "Today our customer visited the Swan Hill Leisure Centre to have a shot of basketball with his support worker. He was able to communicate through the app notifying the leisure centre of when he would be arriving and what he was planning on doing while there.
"Upon arrival, he was met by staff who greeted him by name creating a welcoming experience for our customer. This helped our customer feel very comfortable and he went on to enjoy a shot of basketball while visiting the centre."
Belgravia Leisure's National Disability and Diversity Manager, Jeff Walkley is pleased that the partnership with Cérge has resulted in breaking down communication barriers for people living with disability in the Swan Hill community.
Mr Walkley said, "Belgravia Leisure is proud to work with Cérge to provide the Swan Hill community with an inclusive communication platform. We are rolling out this innovative 'welcome and support' technological solution into Belgravia Leisure operated venues to ensure we are providing our communities with the most inclusive venues possible. Ensuring our teams are confident welcoming and including all."