What is this safety alert about? 
In March 2022, a worker (not a Belgravia Leisure employee and not at a Belgravia Leisure venue) was seriously injured after being exposed to a toxic gas following a chemical reaction in a pump shed.
Initial enquiries indicate the man was using a drum pump to deliver sodium hypochlorite inadvertently into a tank containing sulphuric acid as part of a water treatment process. As a result of the two chemicals reacting, toxic gas was generated. It escaped through an unsealed opening on the tank into the work area.
What you need to know
Some of the chemicals used in our aquatic venues are incompatible with each other. That is, when brought together, they react dangerously.
An example is a reaction between chlorine-based products (e.g., sodium hypochlorite) and acids (e.g., Hydrochloric [sharp smell] or Sulphuric [odourless] Acid) which releases toxic and corrosive chlorine gas.
How does this happen?
Dispensing or transferring different chemicals using a "common" container.
Using contaminated or improperly labelled containers, transfer lines, or piping.
Spills or leaks of different chemicals are kept within a common spill containment system or compound.
How to prevent similar incidents
Ensuring containers, pipework and equipment are free from contamination, particularly from an incompatible hazardous chemical and that they are correctly labelled so contents are readily identifiable.
Isolating (or segregating) incompatible hazardous chemicals from each other (this can be done by distance, barriers, or a combination of both).
Installing overflow protection on equipment and receiving vessels.
Providing emergency shut-offs to limit the amount of hazardous chemicals released during a loss of containment.
Providing a spill containment system/s, where incompatible chemicals will not be brought into contact with one another.
Maintaining a safe atmosphere in the storage and handling areas.
Installing plumbed eye wash stations and safety showers in areas where workers may be exposed should there be a spill.
Designing and implementing planned maintenance programs for chemical handling systems.
Ensuring Risk Assessments are updated, controls are maintained and periodically reviewed (Administrative controls).
Review container labels and Safety Data Sheets (SDS) for the hazardous chemicals to decide whether the risk of the hazardous chemical in the workplace is adequately controlled.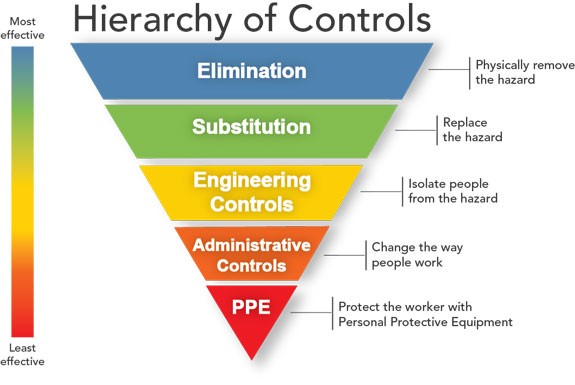 For more information, visit https://www.worksafe.qld.gov.au/news-and-events/alerts/incident-alerts/2022/chemical-reaction-exposes-worker-to-toxic-gas
Please review your chemical storage
Please take a moment over the coming week to review your chemical storage, safe handling and management systems and team member compliance. Take the measures to 'Think Safe Act Safe Be Safe' about our chemical management and handling.