Golf is known for its health and physical benefits, especially when it comes to enjoying the great outdoors and building connections with fellow golfers. An intergenerational sport, golf provides opportunities for people of all ages, backgrounds, genders and diversity to connect, engage and more importantly have a sense of belonging.
But what happens when you add family members of the four-legged variety to the mix?
Glanville Golf Course, located in South Australia, has welcomed golfers and their fur-buddies to experience its first Golf and Pup Day as part of an inclusion initiative for its golfing community.
Access and Inclusion Coordinator Fiona Powell said, "We often have golfers ask if they are allowed to bring their dogs onto the golf course of which we happily oblige, as long as the pets are socially friendly and always on a lead.
"The idea to host a Golf and Pup Day was created to not only give golfers a chance to socialise post-round with a coffee and their pups, but to also give their furry pals the opportunity to explore the course and enjoy their own social interactions.
"It was delightful to see our golfers arrive with their buggies, dogs and puppies in tow. All were very well behaved and enjoyed the huge number of hugs and treats bestowed upon them," continued Fiona. "It's important for our local community who play at Glanville Golf Course to know we welcome everyone, especially if their dog or puppy adds a sense of support whilst playing a round of nine or 18 holes. We aren't sure if our golfers played better with their furry companions, but we certainly know the dogs had a great time with lots of sensory stimulation."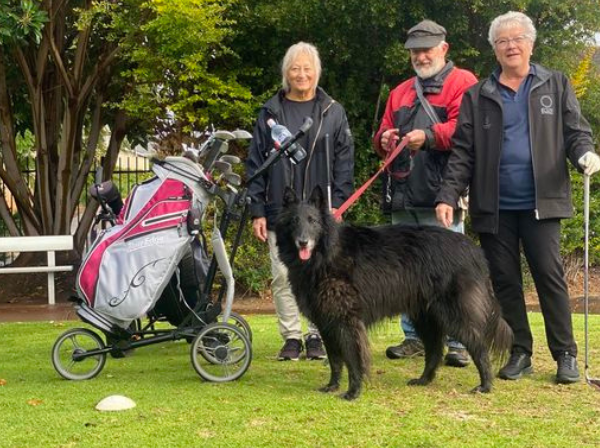 Glanville Golf Course will continue Golf and Pup days throughout the year and look forward to welcoming all golfers and their pups to the venue.
"Everyone loves their family dog and we always ensure the safety of our guests come first. Dogs of all sizes must be socially friendly, on a lead at all times and of course, a poop bag for those anticipated toilet breaks," said Fiona.
Glanville Golf Course aims to create a venue which is safe, fun, innovative, accessible, diverse and consistent in their quality for healthy communities today and in the future.
To find out more about Glanville Golf Course, visit their website here