Digital concierge app Cérge has just taken access and inclusion to new heights across 12 Belgravia Leisure managed leisure venues in the Moreton Bay area, with the significant launch recognised as the highest number of venues yet to simultaneously roll out the app across Australia.
Aimed at reducing the fear, anxiety and discrimination that people with disabilities endure as customers, Cérge is a communications platform which provides app users with a personalised service, alerting staff at participating organisations to the needs of the person with a disability and providing an access pathway.
App developer Cérge's partnership with Belgravia Leisure is a leisure industry first and is a part of a Belgravia Leisure wide rollout which will see over 100 community leisure centres and thousands of people with a disability across Australia and New Zealand embrace all that the app has to offer.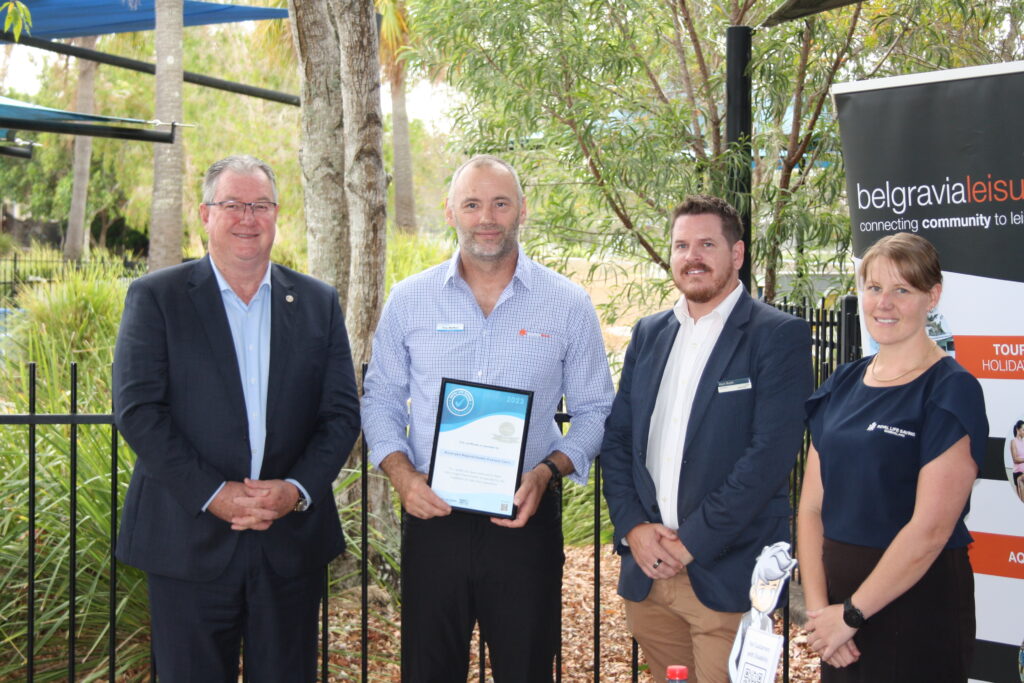 The launch of Cerge in Moreton Bay's seven year-round venues and four seasonal venues and an all year round sports stadium will now give those in the community who require it further peace of mind when enjoying any of the 12 Council run leisure centres across the region.
Services available to guests using the free-to-use app include personalised greetings, express check in or skip the queue, having accessible equipment set up before arrival, arranging guided tours pointing out accessible features and any other tailored experience necessary to allow the guest to have an exceptional experience, all whilst removing the guesswork and improving the confidence for staff to provide these services.
Belgravia Leisure's National Disability and Diversity Manager, Dr Jeff Walkley is thrilled that the partnership with Cérge will result in breaking down communication barriers for people living with disability in the Moreton Bay area.
"As leaders of the access and inclusion space in the leisure industry we've embraced the opportunity to work with Cerge to launch the app not only in the Moreton Bay area, but across our venues in Australia and New Zealand.
"We've already been witness to countless impactful stories from app users in other Council areas on how using Cerge has made for a more seamless experience when visiting their leisure centre, and for many who depend on these visits for their social, psychological and physical well-being, the small but significant personalised tweaks made to their visit thanks to the app absolutely mean the world to them.
"It truly is an inclusive communication platform and we are proud to be working with Cérge to connect communities to leisure in new and innovative ways whilst ensuring our teams are confident welcoming, supporting and including all," concluded Dr Walkley.
Chris Kerrisk Co-founder Cérge is equally as delighted with the partnership.
"As an individual with a disability, imagine having an exceptional guest experience every time you visit your local leisure centre, simply by using an app to alert the venue ahead of time of your service preferences.
"It has been a natural fit since day one partnering with Belgravia Leisure as leaders in access and inclusion, and I am beyond thrilled that those locals in the Morton Bay region can now benefit from staff across these centres being equipped to be more knowledgeable and supportive of their needs".
City of Moreton Bay Mayor Peter Flannery said council was on a journey to be the most accessible council in Queensland, particularly in the lead-up to the Olympics and Paralympics in 2032.
"To Belgravia Leisure for taking this application on board, thank you for doing that. We share that vision; you guys actually deliver it," Mayor Flannery said.
He agreed that having information and imagery available for people to see venues before they visited a venue was useful but to have the customer service to back it up was just as important.
"That one-on-one contact when you come through those gates, when you're talking to them, you've got that respect at the start. They know what your concerns are and provide that level of service they probably never get or expect to get," he said.
Cerge has launched at the following Moreton Bay Leisure Centres;
Year-round venues:
Albany Creek Leisure Centre
Bribie Island Aquatic Leisure Centre
Burpengary Regional Aquatic Leisure Centre
Caboolture Pool and Fitness
Lawnton Aquatic Centre
Redcliffe War Memorial Pool
Ferny Hills Swimming Pool
South Pines Indoor Sports Centre
Seasonal venues:
Woodford Swimming pool
Murrumba Down Swimming Pool
Dayboro Pool and Gym
Deception Bay Aquatic Centre
To learn more about Cérge, click here or view the short explanatory animation here.