Immersion Therapy – the world-first, award winning service that is transforming people's lives for the better – has officially launched in Victoria at WaterMarc Banyule, the largest aquatic and leisure facility in the state's northern region.
To officially launch proceedings, Victoria's first ever Immersion Therapy client Fiona, who is living with multiple sclerosis and a spinal cord injury, donned her SCUBA gear to participate in a demonstration for guests, explaining the benefits of her time spent underwater.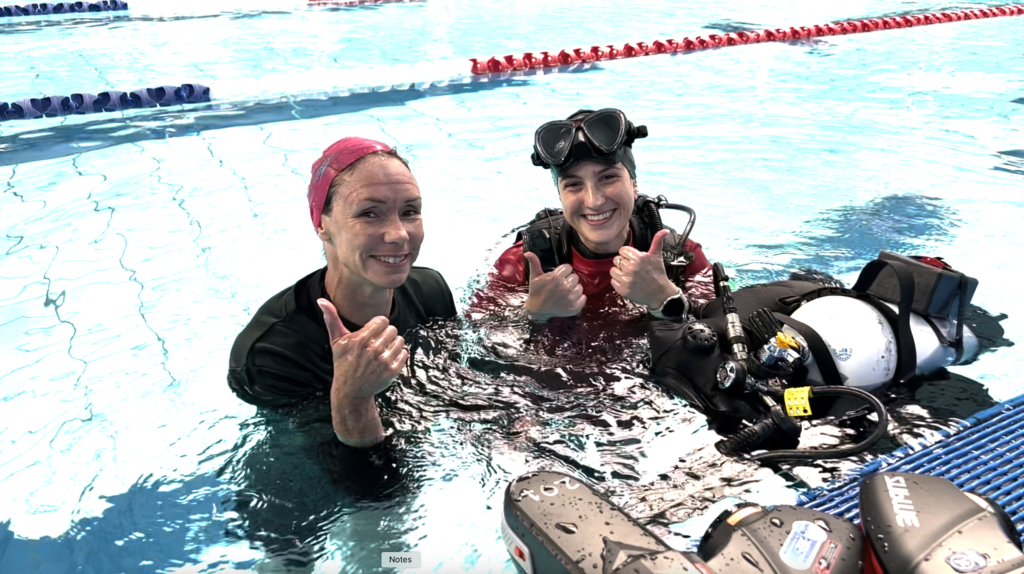 "After just a few sessions, I can honestly say Immersion Therapy is an absolute game changer for me. Already I am not only seeing physical benefits, such as my ankle freeing up, but the self-confidence and psychological boost this experience has given me has been priceless.
"I'm lucky that I can still walk, however imagine what it would be like to be in a wheelchair 24/7, then submersing into water with the freedom to move without gravity – it would be absolutely mind-blowing" says Fiona.
Following the announcement of a groundbreaking collaboration between leisure provider Belgravia Leisure and Determined2, today's launch of Immersion Therapy in Victoria is the first step in a nationwide expansion which aims to ensure that distance will no longer be a barrier for Australians living with an injury or a disability.
Expansion plans will see the novel allied health service expand into at least ten other aquatic facilities across the country and New Zealand over the next five years, with other international ventures then planned to occur.
Channel 9 News Melbourne covered the groundbreaking launch of Immersion Therapy at WaterMarc. The segment featured the inspiring story of Fiona, showcasing her transformative experience underwater.
The news report highlighted the positive impact of the therapy on individuals with various disabilities and injuries, emphasising the physical, psychological, and social benefits.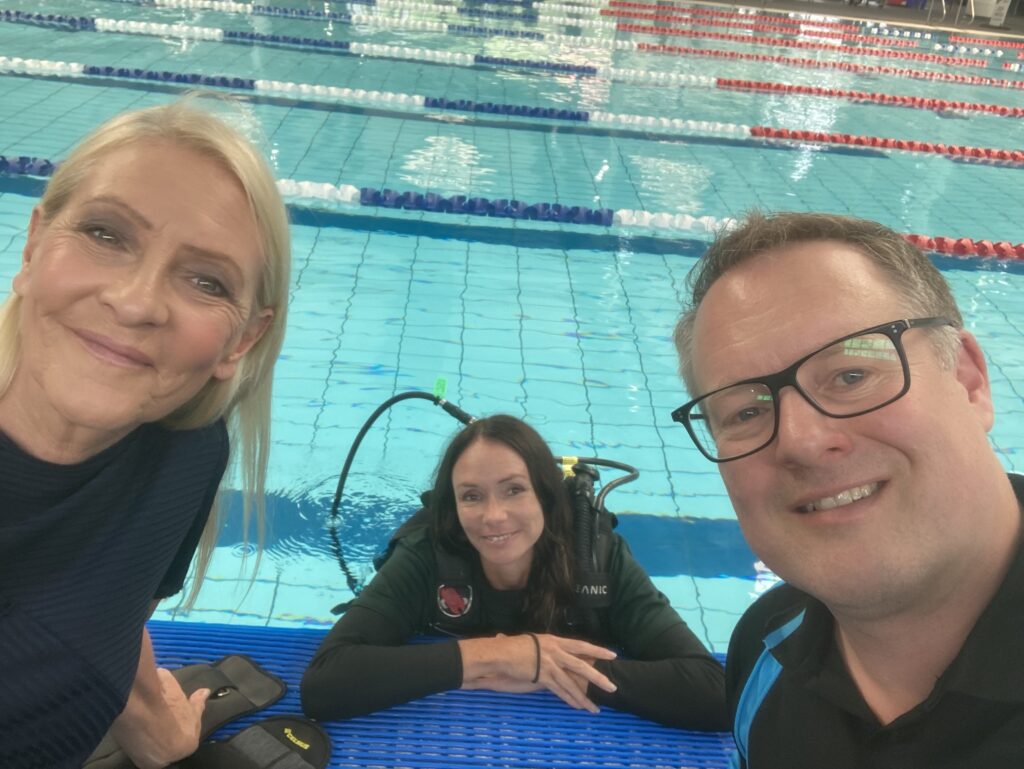 The launch was attended by dignitaries including Banyule City Council Councilor Tom Melican, Belgravia Group Chairman and founder Geoff Lord, Determind2 and Immersion Therapy founder Peter Wilson, CEO of Belgravia Leisure Nick Cox and Dr Jeff Walkley, CEO of Belgravia Foundation and National Disability and Diversity Manager for Belgravia Leisure.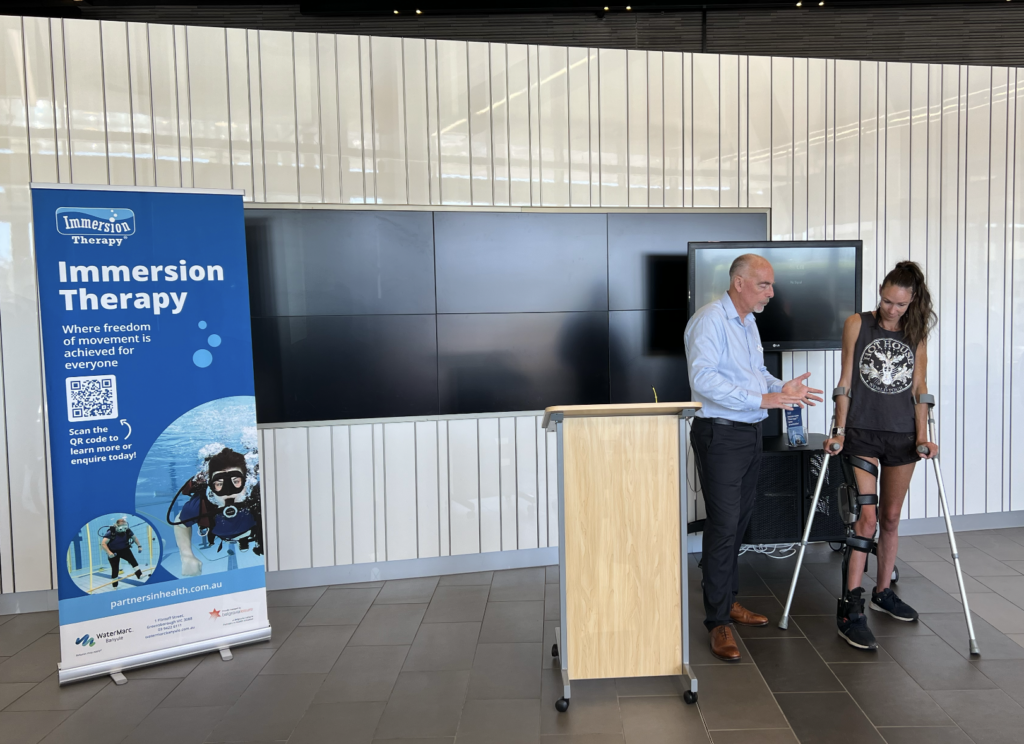 Fiona continues, "The narrative so many people with injuries or disabilities have traditionally been given is 'it's going to progress or it's going to get worse', so when you have something as innovative as Immersion Therapy come along where you are changing the environment in which you can rehabilitate and exercise – that change people's lives and outlook on what's possible for them.
"My goals are based around more mobility and the ability to walk faster, I'm really excited to see where Immersion Therapy is going to take not only myself, but so many others who will be able to create better long term outcomes for themselves from this service. To me, it's a no-brainer!"
What is Immersion Therapy?
With guidance from specially trained Belgravia Leisure Accredited Exercise Physiologists, Immersion Therapy offers the freedom of movement within a weightless underwater environment using SCUBA equipment.
Underwater, participants with a wide variety of disabilities and injuries who find it difficult to walk on land can walk, swim and even dance, with participants (aged anywhere from ten upwards) reporting improved movement, reduced pain and enhanced mental and social health after their sessions.
The world first program has benefited people living with autism, anxiety, depression, MS, spinal cord injuries, amputations, soft tissue injuries and a range of other conditions.
Over 10,000 sessions have been successfully conducted in Adelaide – each positively transforming the lives of participants, with this number set to exponentially grow.
Banyule City Council Councillor Tom Melican is thrilled that the Belgravia Leisure managed state-of-the-art aquatic and leisure centre WaterMarc Banyule is host to Victoria's first ever Immersion Therapy service and says "Banyule City Council is proud to welcome the innovative and empowering Immersion Therapy Program to WaterMarc. The program objectives closely align with Council's desire to improve the health and wellbeing of the community through inclusive programming and services."
Dr Jeff Walkley, CEO of Belgravia Foundation and National Disability and Diversity Manager for Belgravia Leisure is determined to see as many people in need as possible benefit.
"Immersion Therapy is truly a therapy of the future, and it's actually more than just therapy, it's about experiencing liberation in a unique environment, with a newfound sense of freedom beneath the surface. To take gravity away and have the freedom to move, to jump, to dance when it's simply not possible on land is a beautiful thing that liberates the human spirit whilst using exercise as a treatment for the clinical condition.
"I would like to congratulate the team for all of their hard work on today's first and very significant step towards the rollout of this revolutionary program. The journey is just beginning for Immersion Therapy, and I truly believe there is a very bright future ahead for so many who will now be able to access to this pioneering allied health service."
For those wanting to express their interest visit Immersion Therapy partnersinhealth.com.au
For more information on WaterMarc visit their website.