In a proud moment for the Mount Barker community, Mount Barker Mountain Pool has been victorious at the prestigious 2023 Aquatic Conference and Awards. The venue was awarded the Watch Around Water Award, a testament to the team's hard work, dedication and unwavering commitment.
Carly Farrer Regional Manager SA said, "The well-deserved recognition for Mount Barker Mountain Pool at the 2023 Aquatic Conference and Awards is a testament to the team's relentless efforts, particularly Venue Manager Nathan Hart, Programs Coordinator Heather Purdie and their dedicated team.
"Over the past few years, they have worked tirelessly to elevate safety standards and promote the vital Watch Around Water message. We are excited to head into the 2023/24 summer and believe it will be a great season."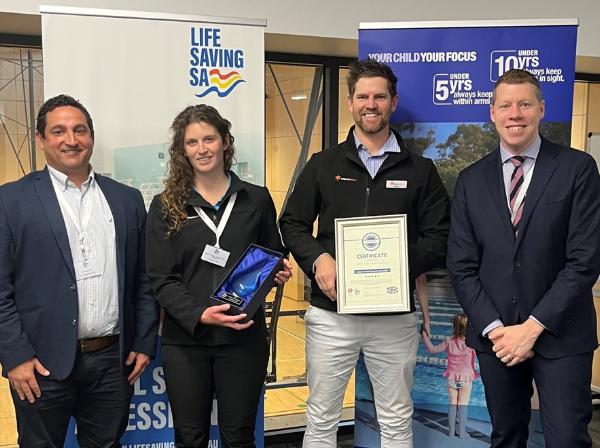 Peter Apostolopoulos, the CEO of Clubs SA and Watch Around Water sponsor, Heather Purdie Programs Coordinator, Nathan Hart Venue Manager and Minister Joe Szakacs pictured accepting the Watch Around Water award at the 2023 Aquatic Conference and Awards.
Nathan, Heather and their dedicated team have been the driving force behind Mount Barker Mountain Pool's exemplary safety measures and community outreach. Their unwavering commitment to ensuring the safety of all visitors has been instrumental in receiving this prestigious award.
The Watch Around Water initiative is a crucial program designed to ensure the safety of all individuals, especially children in aquatic facilities. It emphasises the need for active supervision, clear guidelines and a strong commitment to water safety. The program resonates with the core values of Mount Barker Mountain Pool – and all Belgravia Leisure managed venues across Australia and New Zealand – where safety has always been a top priority.
Mount Barker Mountain Pool's dedication to setting high safety standards has not gone unnoticed. By actively promoting the Watch Around Water safety message to everyone who visits the facility, they have created an environment where visitors can enjoy their time while feeling secure. This commitment extends beyond the poolside, as the team actively engages with the wider community to provide continuous education on water safety.
In addition to its recent Watch Around Water Award win, Mount Barker Mountain Pool is actively promoting water safety among the youngest members of their community through our GOswim program.
GOswim employs an engaging and activity-based teaching approach, making learning to swim both fun and effective for all ages and skill levels. With inclusive and flexible programs, GOswim ensures that everyone, from infants to adults, can access tailored swimming lessons. This partnership highlights Mount Barker Mountain Pool's commitment to safety, education and community involvement.
As we gear up for the upcoming summer season, there's no doubt that Mount Barker Mountain Pool will continue to shine as a beacon of safety, ensuring that everyone who visits the venue enjoys a secure and enjoyable experience.
Mount Barker Mountain Pool opens November 1st for more information visit their Facebook page.