We are thrilled to announce that our partnership with Cérge and Belgravia Foundation has earned the prestigious National Award for Industry Innovation of the Year during the 2023 AUSactive National Awards Program held on September 15th.
Cérge, which has been implemented at the Gympie Aquatic Recreation Centre in Queensland and in more than 30 other leisure venues operated by Belgravia Leisure across Australia (with plans for expansion into New Zealand), has secured this remarkable achievement. This accomplishment underscores the extensive adoption of Cérge's innovative technology.
This recognition through the innovation award underscores our partnerships' power and steadfast commitment to promoting inclusion and accessibility. It also reaffirms our dedication to enhancing guest experiences and transforming lives at our venues, making them more welcoming and accessible for all.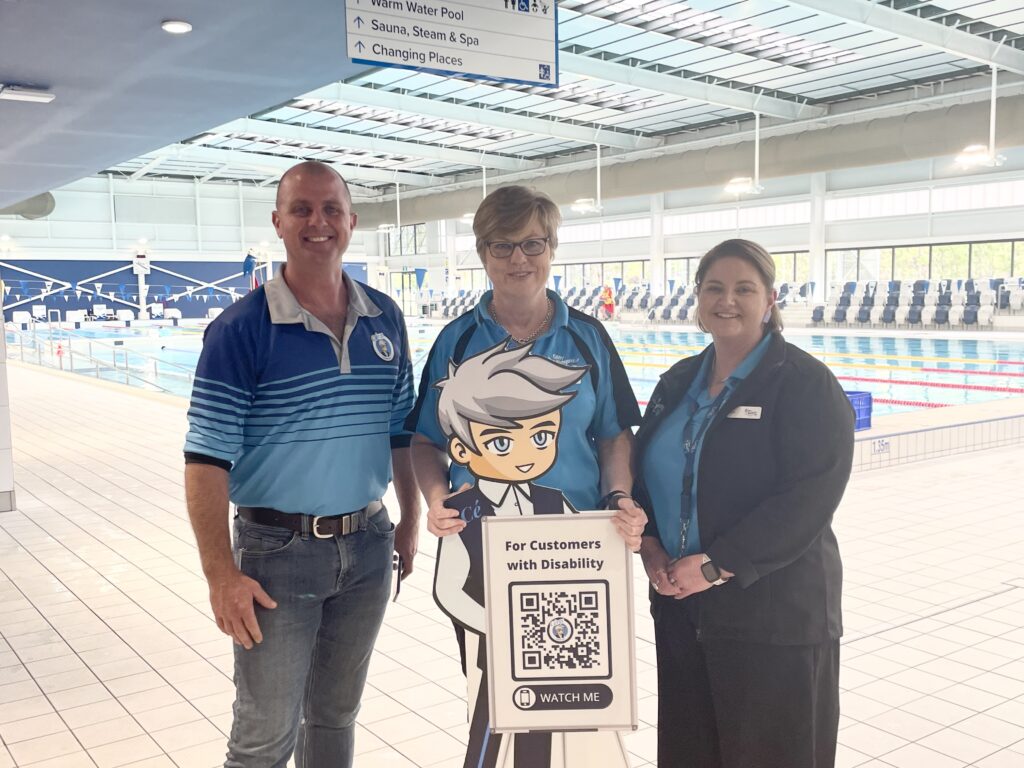 Cérge successfully implemented at various Belgravia Leisure venues across Australia.
The AUSactive National Awards Program is a highly anticipated event celebrating excellence and innovation within Australia's exercise and active health sector.
AUSactive seeks to inspire Australians to lead healthier lives by encouraging them to move more. In collaboration with the Belgravia Foundation, Belgravia Leisure has fully embraced this mission through Cérge's technology that exemplifies innovation in the pursuit of social and physical well-being for all.
Cérge is a world-leading and award-winning technology that creates an inclusive society in a way that has not been done before. Cérge's success lies in its commitment to enhancing access and inclusion for all individuals, particularly those with disabilities. By leveraging simple companion technologies and delivering empathetic and compassionate customer service, Cérge has broken down barriers and promoted greater participation in physical activities.
Pictured with the award above are the co-founders of Cérge, Victoria Kerrisk (middle) and Chris Kerrisk (right), along with Dr Jeff Walkley (left), CEO of the Belgravia Foundation and Belgravia Leisure's National Disability & Diversity Manager. Chris Kerrisk celebrated online, saying, "We are humbled by this platform to amplify greater access and inclusion for all people with disability through simple companion technologies and customer service with empathy and compassion.
"A massive thank you to Jeff Walkley, whose dedication and advocacy have been instrumental in championing the Cérge program within Belgravia Leisure and the Belgravia Foundation. His commitment to ensuring that Cérge reaches every corner of Australia and expands to New Zealand is truly commendable."
Discover Cérge at a Belgravia Leisure Venue Near You
For those eager to experience the positive changes brought about by Cérge, we invite you to visit one of the many Belgravia Leisure venues that have already adopted this innovative program.
Venues include Gympie Aquatic Recreation Centre, Albany Creek Leisure Centre, Ascot Vale Leisure Centre, Bribie Island Aquatic Leisure Centre, Burpengary Regional Aquatic Leisure Centre, Caboolture Pool and Fitness, Civic Reserve Recreation Centre, Glanville Golf Course, Gunyama Park Aquatic and Recreation Centre, Keilor East Leisure Centre, Knox Leisureworks, Lawnton Aquatic Centre, Mackay Aquatic Recreation Complex, Michael Clarke Recreation Centre, Michael Wenden Aquatic Leisure Centre, Mill Park Leisure, Nambour Aquatic Centre, Pelican Park Recreation Centre, Redcliffe War Memorial Pool, Somerville Recreation Centre, Splash Devonport Aquatic and Leisure Centre, Swan Hill Aquatic and Recreation Centre, SWIRL Circular Head, Thomastown Recreation and Aquatic Centre, Tobruk Memorial Pool, Valley View Golf Course, WaterMarc, Whitlam Leisure Centre, Wulanda Recreation and Convention Centre, and Yawa Aquatic Centre.
Your participation and support will help us continue our mission of making exercise and active health accessible to all. Together, we can ensure that health and wellbeing are enjoyed by everyone, regardless of their abilities or limitations.