If you're looking to change up your workouts, are in need of an exercise option which is kinder on your joints or you simply want to make a splash, aqua aerobics is for you! With numerous water workouts on offer at Belgravia Leisure facilities, give them a go and enjoy a great workout minus the muscle soreness.
Can I do water aerobics?
Because aqua aerobics is accessible to people with joint issues or injuries, there is a stereotype that it is only for seniors. Kellie McKay is the Group Fitness Co-ordinator and an Aqua Fit instructor at WaterMarc in Greensborough, Melbourne. Kellie says that while she does have a lot of older people in her classes, it is a misconception that the class is only enjoyable for those in their golden years.
"Aqua aerobics is for everyone – mums, dads, grandparents, athletes, the injured, etc.," Kellie says. "It's also great for kids, and there are specific kids' classes too. Aqua does not discriminate; it is an inclusive program with fun and fitness for all."
"Aqua aerobics is suitable for all levels," reiterates Belgravia Leisure's National Health & Wellbeing Manager Troy Walker. "For anyone who is pre/post-natal, post-injury or Illness rehab, or looking for a low impact/cross-training alternative, they will all benefit from aqua aerobics classes," he says.
Troy says that aqua aerobics is very inclusive, however, if you're unsure whether you can participate, check with your doctor to be on the safe side. "Anyone new to exercise, returning after a long period of absence, or who has pre or existing injuries should seek clearance from their GP prior to participating in a class," says Troy.
Calorie burning
Despite the impression that aqua aerobics is an easy workout, Kellie says you can burn some serious calories during a session. "You can expect to burn 350 – 500 calories in an aqua aerobics class, depending on the participant's effort and fitness," she says.
Due to water's natural resistance, simple movements such as marching up and down or kicking takes much more effort in the pool than it would on land – this then leads to more calories burned.
If weight loss is your goal, you'll want to ensure you are getting the most from the time spent in the pool. Kellie points out that the intensity of the workout is what will determine the calories burned, with options to ramp it up or take it down a notch.
Strengthening muscle, improved coordination and balance
"Water is an excellent medium for strengthening muscles," says Kellie. Another plus of water workouts is they can improve your overall coordination and balance, so if yoga or Pilates classes aren't your thing, this is a fantastic option to get these benefits.
"Aqua aerobics has varying programming focuses such as muscle toning, flexibility, strength development, cardio and high intensity," says Troy. "It is a great all-year-round solution or a complement to any land-based fitness programs."
Little or no post-exercise stiffness
Many of us know the feeling of delayed onset muscle soreness (DOMS) after we've done a workout. You may have felt great in the session only to find yourself wobbling when you try to walk down the stairs the next morning or struggling to lift your coffee cup!
It's less likely that you will be sore after a water-based workout, says Kellie. "The water has a massage effect increasing circulation, promotes relaxation, has little or no post-exercise stiffness and reduces stress on the joints," she says.
Regularity of workouts
Like with any form of exercise, to reap the benefits you must be consistent with your workouts. Kellie recommends regular classes – "from once per week up to 3 – 4 times weekly" to get the most out of your sessions. "Like any health and wellbeing routine, regular activity and variety is the key," adds Troy.
Workouts can be done all year round, so even when the weather is cooler, you can still enjoy pool time in indoor heated facilities.
Many Belgravia Leisure facilities offer numerous water-based classes during the week. At WaterMarc, Kellie teaches three Aqua Fit classes per week, with other classes (held every day except for Sunday) being taken by other instructors.
What aqua aerobics classes are available?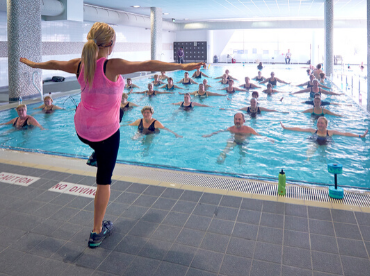 There are many different types of aqua classes, so check with your local facility to see what's on offer. You may be able to try out an Aqua Fit, Aqua Run, Shallow Aqua, Deep Water, Aqua Strength, Aqua Pilates or even Aqua Zumba class.
Kellie says new trends in the water workout spaces are Aqua Cycle, Aqua Step and FloatFit, which is a full body core workout.
What to expect in a class
While different types of aqua classes vary, what they all have in common is that your workout takes place in the water (as you would expect!). This can be a welcome change of scenery if you're used to exercising only in the gym and can shake up your workout routine, keeping you motivated.
Working out in water is also easier on the joints as the water provides a resistance that can be used for body weight activities, for example leg lifts or squats. You might use equipment such as noodles, kickboards and dumbbells which can be incorporated during the class to add support or difficulty to the exercises.
Classes tend to either be 45 minutes long or 30 minute 'express' sessions. And just like on the gym floor, the music is pumping to raise those endorphins and add a splash of fun to your workout. You may find yourself enjoying yourself so much that the class is over before you know it!