GOswim, a next-generation swimming and water safety program, has been launched by Belgravia Leisure in partnership with Swimming Australia.
With a focus on experiential and activity-based learning, GOswim encourages and supports students to explore pathways into competitive and recreational lap swimming. Another key element of the program? Simply having fun.
"GOswim is very much about keeping kids in the water, ensuring they are having fun and learning how to be safer in on and around the water," says Kym McMahon, General Manager Sport Growth at Swimming Australia.
Meet the GOswim characters!

There is a friendly character for different levels of the GOswim program, each named after different Aussie locations.
Taz the starfish is the mascot for the three infant levels (level 1 for 6-12 months, level 2 for 12-24 months and level 3 for 24-36 months)

Queenie the seahorse for the three preschool levels (all for 3-5 years)

Adele the jellyfish for primary level 1

Victor the platypus for primary level 2

Syd the seal for primary level 3

Mel the marlin for primary level 4

Bruce the shark for primary level 5

Ozzie the orca for primary level 6 
Catering to all skill levels
The multiple levels ensure that every child can take part in GOswim, whether they take to swimming like fish to water or have more trepidation.
"It's really about ensuring that the kids are developing in their own way and are given the opportunity to experience swimming in a safe and comfortable environment," says Kym.
Experiential and activity-based learning
Experiential learning is learning through doing – unlike command teaching, you won't find a coach out the front of the class shouting commands at GOswim.
This also means more time for being active and more playtime! Activities form an important part of the program, with fun being a top priority. This can help nervous swimmers feel at ease in the water and gain confidence.
GOswim follows a set curriculum, with an overall program framework that each teacher follows to ensure national consistency and quality in program delivery. That means you can go to a GOswim program at any Belgravia Leisure centre and expect a consistency in its approach. But there's still plenty of room for a variety of different games and activities.
"I was at a program on the weekend and the activities the kids were doing were really great," says Kym. "They were on a mat, building a raft to then rescue each other – they all had lifejackets on so it was really safe, and they were having a lot of fun."
Keeping safe in the water
Water safety is a crucial skill to learn and it's never too early to start teaching this to children. GOswim teachers ensure that all students understand water safety at an age-appropriate level and provide a safe learning environment for students.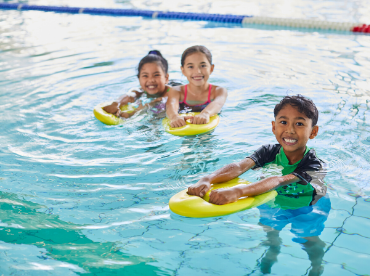 Learning how to tread water, floating on your back and being able to get out of the pool without the use of a ladder are examples of water safety skills.
While children should always be supervised in and around water, these vital skills can build confidence.
Providing pathways
If your child dreams of being the next Cate Campbell or Ian Thorpe, participating in the GOswim program can support them in getting closer to that goal.
The top two levels of the program are GOswim Academy, perfect for children who want to take their swimming to the next level. In the academy, students extend their competencies in a squad-type environment while covering water safety components at a higher level.
If Olympic gold isn't in sight, a lifetime of enjoying the health benefits of swimming can still await. Whether there's a future in competition, elite or recreation swimming for participants, the aim is to keep them in the water for a lifetime of aquatic activity.
"Some of the outcomes of the program that we're really proud of are ensuring that kids are enjoying swimming, which will hopefully keep them swimming for life," says Kym.
"That's a real goal of ours and by partnering with Belgravia Leisure, participants get the stability of support right from the start of learning to swim as they develop their swimming skills."
Innovative technology
Every child's GOswim journey is powered by innovative technology – the Splash app and digital platform. The Splash app was specifically designed to improve communication and interaction between swim schools, parents and swimmers.
"Once the students are assessed in their program, which happens regularly, parents will get a notification to say how their child is progressing," says Kym.
"The app keeps the parents connected to the program and the swim school communicating with the parents around their child's progression. That was based on feedback from a lot of parents who weren't fully understanding where their kids are at regarding their learn to swim development."
As well as keeping parents in the loop, the Splash app engages the students with notifications on skills and milestone achievements, digital awards and video messages from the Australian Dolphins swim team. These messages, from champions such as Cameron McEvoy and Ellie Cole, encourage kids to keep on swimming.
"That's been a really nice feature, to connect to the elite side of the sport and get that awareness about our Australian swim team out there with the community of swimmers that are using the program," says Kym.
Plenty of time in the water
Students will get ample time to spend splashing around, and not just in the warmer months. With GOswim's 52-week membership includes 48-weeks of the program and a 5-day intensive swimming program available for each student, there's no reason swimming has to be just for summer – especially given Belgravia's wide variety of fantastic indoor swimming facilities.
Come Christmas time, take advantage of the four weeks of free family swimming. Join your kids in the pool – they might even show you a new technique or two!
"We want to get the whole family down to their local Belgravia Leisure centre and get active in the water," says Kym.