As the warmer summer months draw close, Belgravia Leisure is ramping up its swimming programs in preparation for a safer summer in the water.
With the lack of access to public pools, cancelled swimming lessons and other factors surrounding COVID restrictions, Life Saving Australia reported a concerning 20% increase in drowning rates in 2019/2020.
Belgravia Leisure swim teachers are expecting an increase in children wanting to spend time in the water after being cooped indoors for so long, and safety in and around the water is their highest priority.
The team at Swan Hill Leisure Centre are doing their best to dive into summer fully prepared. They have already seen a spike in the number of children wanting to get back in the water as soon as possible. There are currently 57 Goswim weekly swimming lessons back on the timetable keeping 241 kids active every week. The number continues to grow as summer draws closer and capacity limits increase.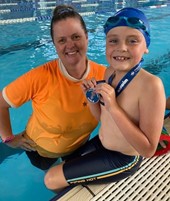 Local schools in the Swan Hill district are doing their part to ensure kids are confident and safe in the water. Swan Hill Leisure Centre Assistant Manager Karla Barnes said, "It's great to see 7 of our local schools are booked to attend school swimming programs over the next 8 weeks. We have over 300 kids set to attend a 5 – 12 day intensive program. Many had to postpone or cancel their programs last year so it's essential kids get access to this vital skill pre-summer."
"We are also working with families to provide access to over 500 kids to our weekly program that caters for babies through to competitive swimmers," Barnes added.
The Victorian government has reinforced the importance of physical activity by announcing the Get Active Victoria Kids Voucher Program which provides eligible children with up to $200 for sport and leisure activities including swimming.
Find out more about Swan Hill Leisure Centre here: https://www.swanhilllc.com.au/