Over the past three months, our facility managers and team leaders across Australia and New Zealand exchanged innovative ideas at the annual Belgravia Leisure Conference Roadshow. With a full house of exciting guests and key speakers, the atmosphere of these events was second to none.
Throughout the conference, teams get to learn skills and tools to improve their knowledge across different business areas, participate in fun networking opportunities and celebrate the wins. Every year, a highlight for attendees is the Belgravia Leisure CLEAR awards. The awards ceremony recognises individuals work efforts that demonstrate the Belgravia Leisure CLEAR business values of
Customer Service, Leadership, Excellence, Accountability and Results.
In addition, several new awards were presented to individuals and centre teams who are considered
the 'shining and rising stars' across specialist areas for exceptional efforts.
The winners of these awards were:
Project Management – Lesley Grimes
Marketing – Gurri Wanyarra Wellbeing Centre and Knox Leisureworks
Customer Experience and Sales – Knox Leisureworks and Lauren Heines
Aquatics – Gurri Wanyarra Wellbeing Centre and Olivia Lie
Health and Wellbeing – Rachel Scott and Dylan Withanarachchi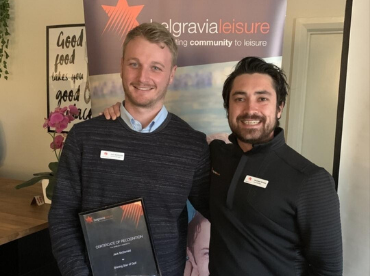 Golf – Jack McDonald and Mitchell Walker
The VIC/TAS Conference was the second last stop on the Belgravia Leisure Conference roadshow which is one of the major yearly networking events that brings together more than 500 staff members. VIC/TAS State Manager, Kris Miller said "We look forward to the state conference every year. This year was a big one for the Victoria with four new centres coming on board and the subsequent expansion of our superstar VIC/TAS team."
Not only have we grown our network, but as a state, we've seen participation and member growth through the innovative programs and projects our teams have rolled out in VIC and TAS, said Kris.
Belgravia Leisure CEO and guest speaker Nick Cox said, "Right now, the rate of change is the slowest it will ever be. The conference not only aims to connect our teams but give them valuable insight into the next phase of the business including technologies and systems that we're implementing to help make the day-to-day work easier and more efficient, in the changing leisure landscape and business environment we work within."
Click here for the winners that took away this year's Belgravia Leisure CLEAR Awards.