The Nambour Aquatic Centre, Splash Park is located in the Sunshine Coast hinterland and features more than 580 square metres of exciting waterplay, including two giant slides measuring 60 and 67 metres in length.
The new $3.2 million water park held its opening weekend during the September school holidays and is the perfect destination for some splash-tastic fun this summer.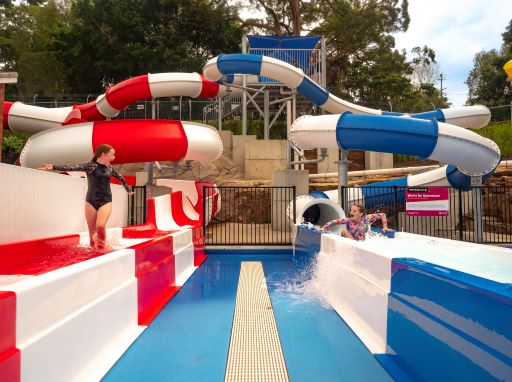 Kate Baker, Nambour Aquatic Centre Venue Manager said, "Since the Splash Park's opening weekend in September, Nambour has been attracting visitors from across the region. Guests of all ages have loved the giant slides, along with the Splash Pad, 50-metre lap swimming pool, and 25-metre indoor pool. The water play facilities allow people of all ages to enjoy hours of fun at Nambour Aquatic Centre, right in the heart of the hinterland.
"At Belgravia Leisure, we aim to connect the community to leisure while promoting a healthy and active lifestyle. I'm proud to see people in our community and wider region travel to enjoy a day of fun with friends and family, especially over the holidays," Kate said.
Sunshine Coast Council Mayor Mark Jamieson said, "The community is so thankful for this wonderful new attraction, and it is truly a delight to see the joy it brings. I believe the Nambour Aquatic Centre has set a new benchmark for community waterparks in our region."
Nambour Aquatic Centre is managed by Belgravia Leisure on behalf of the Sunshine Coast Council. The splash park was developed with the support of the Queensland Government's Works for Queensland program.
For further information on the Nambour Aquatic Centre, Splash Park and holiday opening hours please visit nambourac.com.au or follow along on Facebook here.