The Belgravia Leisure Census, a comprehensive survey aimed at understanding our workforce and fostering a more inclusive and diverse community, has now come to a close. The data collected provides a valuable glimpse into the demographics and characteristics of our team members, shedding light on various aspects, from country of birth to mental health.
We want to thank our team members who took the time to share. Please stay tuned for updates on our ongoing efforts to foster an even more inclusive workplace for our teams. We now want to share what we've found with you.
The Belgravia Leisure Census received remarkable interest, evident from the high opening rates for the initial Electronic Direct Mail (EDM) and its follow-up. The response rate, which stood at 18.3% with 793 respondents from a population pool of 4,349 team members, is statistically robust. With a 95% confidence level and a low margin of error at 3.2%, we can confidently say that the data from these 793 respondents accurately reflects our workforce.
Indigeneity
In terms of indigeneity, 26 respondents (3.5%) identified as Aboriginal or Torres Strait Islander (ATSI), closely aligning with the Australian population's prevalence at 3.8%. In comparison, 17 respondents (36.9%) identified as Maori, a considerably higher percentage than the New Zealand population prevalence of 17.1%. These statistics highlight a diverse representation of indigenous backgrounds among team members.
Sex at Birth
Most Australian respondents (71.3%) identified as 'female,' with 28.3% identifying as 'male' and 0.4% as 'other' (intersex). Similarly, in New Zealand, a significant majority (76.6%) identified as 'female,' with 23.4% identifying as 'male.' These statistics provide insights into the gender distribution within the organisation.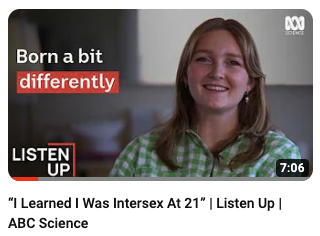 For a real-life perspective on the experiences of intersex individuals, be sure to watch Mimi's inspiring journey here.
Sexual Orientation
The census also inquired about sexual orientation. The majority of Australian respondents (87.7%) identified as 'Straight,' while 8.6% identified as 'Lesbian, Gay, or Bisexual.' A smaller percentage identified as 'Other' (2.4%) and a few as 'Don't know' (1.3%). In New Zealand, a similar pattern emerged, with 85.4% identifying as 'Straight,' 9.8% as 'Lesbian, Gay, or Bisexual,' and 2.4% as 'Other.' A slightly higher percentage (2.4%) chose 'Don't know.'
Mental Health
Mental health is a critical aspect of well-being and the census also explored this area. A substantial percentage of Australian respondents (35.8%) reported having seen, or considered seeing, a health professional about their mental health in the past 12 months. In New Zealand, 28.3% of respondents reported a similar experience. These numbers highlight the importance of mental health support within the workforce.
For mental health support resources, please click here.
Ability
The census also examined the prevalence of disabilities among team members. In Australia, 11.2% of respondents reported living with a disability, with Neurodiversity conditions such as ADHD and Autism being the most prevalent (45 responses). In New Zealand, 13% reported living with a disability, with a similar prevalence of Neurodiversity conditions (4 responses). These figures emphasise the need for support and accommodations to ensure an inclusive and accessible work environment.
The Belgravia Leisure Census has provided valuable insights into the demographics, diversity and well-being of our workforce. This information serves as a foundation for continued efforts to create an inclusive and welcoming environment for all Belgravia Leisure team members.
We thank you for being a part of The Belgravia Leisure Census, bringing us one step closer to fostering a more inclusive workplace.