Ocean Beach Tourist Park continued its winning run of awards success on 1 April, when it was named the Bronze Key winner for the ReviewPro People's Choice Caravan Park of the Year at the 2022 Caravan Industry National Conference.
Located in Miami, Queensland, Ocean Beach is operated by BelgraviaPRO in partnership with City of Gold Coast Tourist Parks. The People's Choice Caravan Park Award recognises venues for outstanding effort and is 100% based on online reviews and customer feedback for all ReviewPRO-accredited caravan parks.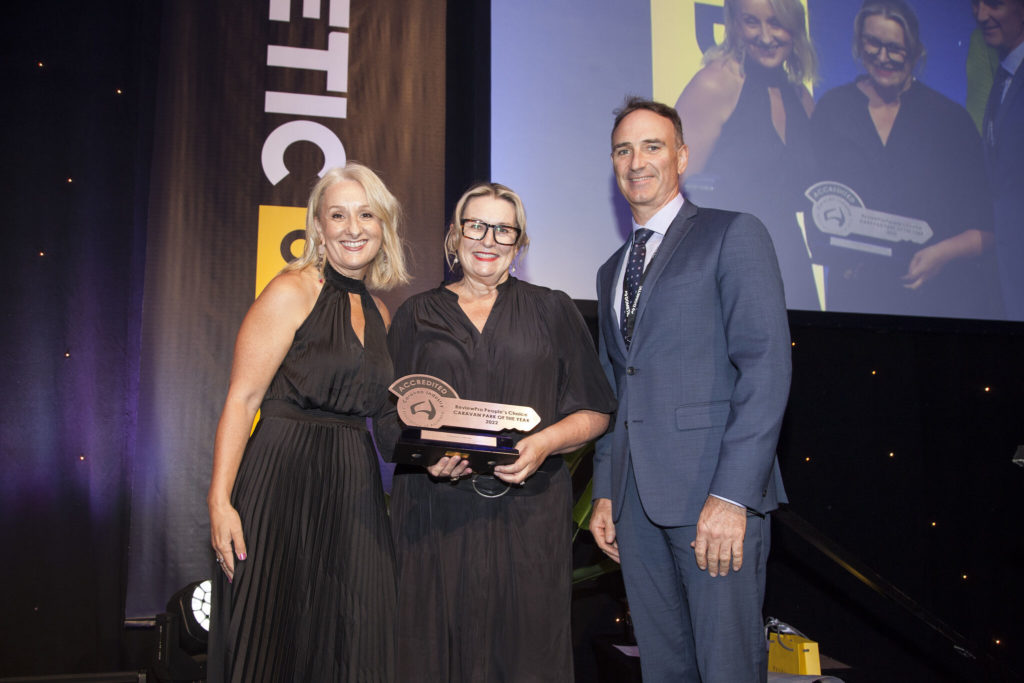 Nick Cox, CEO of Belgravia Leisure said, "a big congratulations to the team at Ocean Beach Tourist Park who were named the Bronze Key winner for the ReviewPro People's Choice Caravan Park of the Year. It was an honour to be at the conference to see the win and it's a real credit to the continued hard work, resilience and passion from the team on the ground that earned this award."
The ReviewPRO award rounded out a good week for Ocean Beach. Four days earlier, at the 2022 Caravan Parks Association of Queensland (CPAQ) Awards, the venue was named the winner of the Inaugural Ron Chapman Award for Excellence – named in honour of Ron Chapman AOM, the former CEO of CPAQ. Ocean Beach's managers Shannon Deere and Rob Butterworth were at the CPAQ Awards dinner on 28 March to be presented with the award.
Shannon commented, "We were so happy to bring this award home to our hard-working team. We are only a small park but are really focused on customer service and creating an amazing stay for our guests."
The latest wins see Ocean Beach add to a run of industry awards that the venue has picked up in recent years. The venue was previously named the Silver Winner of the ReviewPRO People's Choice Caravan Park Award at last year's Caravan Industry National Conference. In 2020 it was also awarded the Tripadvisor Travellers' Choice Award, having ranked within the top 10% of properties worldwide on the Tripadvisor website.
Shannon added, "Rob and I have only been managing the park for ten months but knew we had big shoes to fill with the previous managers winning the ReviewPro Silver Key at last year's conference. We have a lot of repeat guests come through the park, so we made sure we were building those relationships to keep them coming back year after year."
Karen Golden, General Manager of Tourism & Wellness at BelgraviaPRO, congratulated Ocean Beach's management team for the venue's ongoing success, "Shannon and Rob continue to deliver an environment where guests enjoy an outstanding experience at Ocean Beach. Their success is underpinned by the strong, enduring partnership that BelgraviaPRO enjoys with City of Gold Coast Tourist Parks. Ocean Beach keeps going from strength to strength and we're just enormously proud of the team there."
BelgraviaPRO is a Park Management and Affiliate member organisation in the camping, glamping, holiday parks and unique stays industry. For anyone planning a getaway – whether it's short or long, out of the city or into nature – BelgraviaPRO offers a range of unique experiences across Australia and New Zealand.