Ahead of International Women's Day, we are highlighting some of Belgravia Leisure's valued leaders. We spoke with Belgravia Leisure's Regional Manager for Northern NSW Nicole Dunn to get to know her better and find out what International Women's Day means to her.
Blagorodna Paskova, Manager, Issuing and Collections, Sofia, "It gives me confidence that my daughter is growing in a world which will consider everyone for their character and capabilities without falling for the stereotypes we used to fall victim to when we were kids".
Nicole explains, "I read this statement and it really sums up how I feel about International Women's Day. International Women's Day is not a day I tend to reflect on from my own experience. I have been fortunate not to have experienced any form of inequity or other similar barriers in my quest to be successful.
"I do however think of my twin daughters and what the world may look like as they become young women contributing to society, will they have similar experiences to mine?
"My daughters are both extremely strong, courageous women that I attribute to the role models in their life and the strong values instilled upon them through their education. I like that they can both play AFL and have the opportunity to play the sport at the highest level. I also love that they are far more accepting of people's differences than what I witnessed growing up.
"While there may be a way to go to reach #eachforequal, the fact my daughter can play AFL against a Trans woman shows just how far we have come!"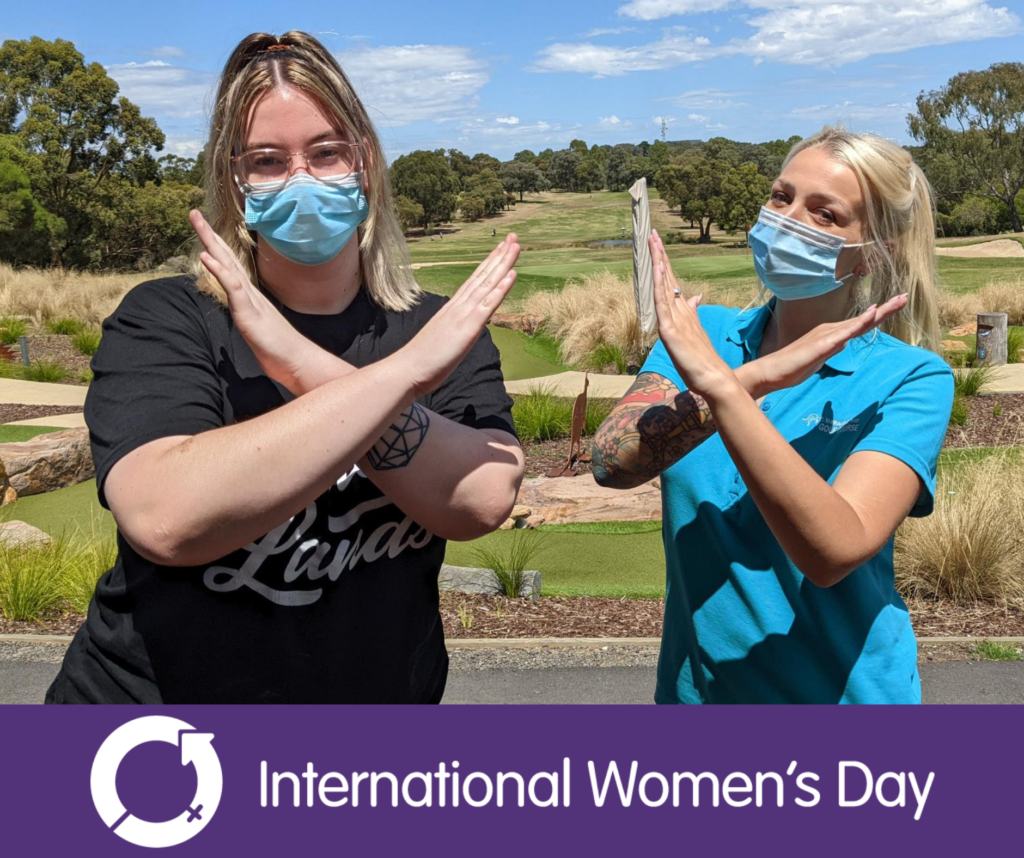 Belgravia Leisure is supporting International Women's Day, held on March 8th 2022, this year the campaign theme is #BreakTheBias. Join us in celebrating women and together we can forge a more inclusive world.
For more information on International Women's Day and how you can get involved, visit their website here.
What are some of your highlights/magic moments working with Belgravia Leisure?
"Securing long term extended contracts with multiple Councils in Northern NSW and securing new venue management contracts. The success that has been achieved is due largely to the team on the ground whose great work is what our brand reputation has been built upon for many years.
"The enormous amount of work and memorable guest experiences being delivered at Lake St Claire Park by the team and the Park is recognised as Destination of the Year in the 2021 National Belgravia Awards. Royal Life Safety Audit Results across Northern NSW venues continually achieving some of the highest ratings in NSW Tomaree Aquatic Centre Business of the Year multiple years running – Local Business Awards Land Manager Finalist 2021 for Belmont Wetlands State Park.
"Being part of the team that is driving change in access and inclusion across the company and the wonderful, supportive people you meet on your Belgravia Leisure journey. I am very grateful for the opportunities Belgravia Leisure continues to provide me."
How have you been impacted by COVID-19 & what have you learnt?
"The continued changing operational restrictions and venue closures being imposed upon management and staff, sometimes forced upon them within hours, created enormous challenges for the team. Through our experiences we know Covid has had a significant impact on our people across all levels, not only with what they experience within their place of work but the impact the pandemic has had on their life outside of work. Our team have shown their ability to be flexible, responsive and resilient in times of crisis.
"Covid has made me realise just how important a job is in connecting people to each other and people to a safe place. A job provides a sense of importance, value and identity, when that is taken away people seem to become lost. Lucky we were able to recognise this and many social activities were created. Thank goodness for our 'Friday Night Funnies' team catch up – a highlight at the end of some very long weeks."
What is your favourite thing about your career?
"The ability to grow and develop as an individual and grow and develop a business at the same time and having the support and encouragement from a company to do this is one of the main things I am grateful for and what I have loved about my career. I have been lucky enough to work with some incredibly successful people who have taught me a lot over my career. I find people who work in our industry to be a lot of fun and are genuinely nice people, it makes the workplace a great place to be."
Where do you see yourself in the next 3-5 years?
"I see myself still working within the Belgravia company. The future is extremely exciting for the company and I look forward to seeing where my Belgravia journey takes me. I am also excited about the future of our Northern NSW superstars."
What are 3 things you're most passionate about in life and why?
Family
Enjoying life
Success