Three years ago Rosie Keogh was a casual receptionist on a working holiday visa. As of today, she is a permanent resident and the acting centre manager of the Annette Kellerman Aquatic Centre.
She explains how she's "worked hard over the last three years but also I owe a lot of thanks to the team I work with and some truly exceptional leaders. A massive thanks to David Burns, and Alex Simmons for always pushing me, believing in me and advocating for me. I can honestly say I would not be here without you both and without the help and support from Belgravia Leisure." This is Rosie's career progression from customer service officer to acting centre manager of the Belgravia Leisure Facility of the Year!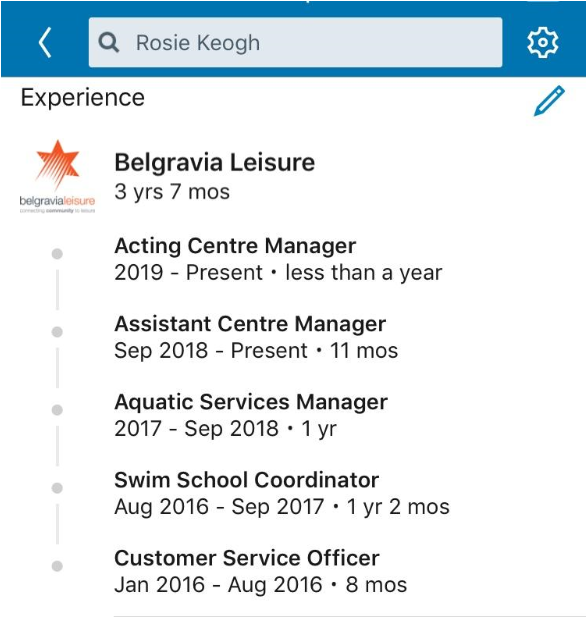 I completed an Honours degree in Recreation and Sports Management in WIT, Ireland. I graduated in January 2013 as Student of the Year and with First Class Honours.
I arrived in Australia on December 2014, and my first job in the country was as a casual receptionist for Belgravia Leisure at Annette Kellerman Aquatic Centre in February 2015. I worked at AKAC for about four months when I then left to do my farm work so I could gain my second-year visa.
When I finished my farm work and returned to Sydney, and I reached out to Annette Kellerman again to see if they had any openings as I had enjoyed my time there immensely. They had some casual jobs going on the front-end reception, and I began working at Annette Kellerman Aquatic Centre.
Over the next few months, I worked on reception and helped out with some marketing, looking after the Facebook page and website.
I promptly became the swim school coordinator and took over the running of the swim school at Annette Kellerman Aquatic Centre and Fanny Durack Aquatic Centre. I had worked as a swim teacher at home but not having the same scale of facilities in Ireland, looking after a swim school of over 2000 kids, and 40 swim teachers was a steep learning curve!
In September 2017, we amalgamated the reception and swim school into one department and service area, and I was promoted to Aquatic Services Manager and oversaw this department with a team of two coordinators, and 50 swim teachers and receptionists. Around this time, I was identified as an emerging leader within the business and began attending our state managers meetings.
In September 2018, I was appointed as Assistant Centre Manager for AKAC/FDAC. This was a new role that the centre created, which we previously did not have. As Assistant Centre Manager I oversaw the day to day running of the centre and stepped up into Acting Centre Manager position when the manager was on leave.
Our Regional Manager for the area resigned in July 2019 which opened up options for some moves within the company. My manager was promoted to Acting Regional Manager, and I was appointed as Acting Centre Manager of AKAC/FDAC.
What's your best career advice?
Create relationships! The value of people should not be underestimated.
What's your advice to someone wanting to achieve a similar career path?
I knew I wanted to be in the leisure industry and while I didn't see myself being a receptionist long term, I knew it was a way to get in with a company and a centre that I would want to work with.
Don't be afraid to take a job that you may not see yourself in the long term because it may be a way to gain the knowledge and experience needed to get your career on the right path.
Identify what you don't know and the gaps in your knowledge. Be confident enough to admit what you don't know and find ways to work on it and learn from it. Be transparent about what you want to achieve and communicate that to the right people. From there, it's about working hard and proving your worth to those around you and above you.