In a bid to reverse the alarming decline in active travel to school and promote healthier lifestyles among Australian children, Belgravia Leisure is proudly teaming up with AusCycling for the groundbreaking launch of AusBike.
This transformative learn-to-ride program is designed to instil confidence and competence in youngsters aged 5 to 12 and has officially launched across select Belgravia Leisure venues.
After a successful pilot program spanning two terms, AusBike is becoming an important part of our mission to promote physical and emotional well-being in young Australians.
General Manager of Programs, Grant Connors shared his enthusiasm for the program. "At Belgravia Leisure, we wholeheartedly believe in the transformative power of physical activity. Our mission is to get one million kids active, and AusBike aligns perfectly with our goal of promoting healthier lifestyles within our communities.
"During the pilot program, we witnessed the positive impact it had, and we're eagerly anticipating more children discovering the pure joy of cycling. We're thrilled to be a part of this initiative," Grant said.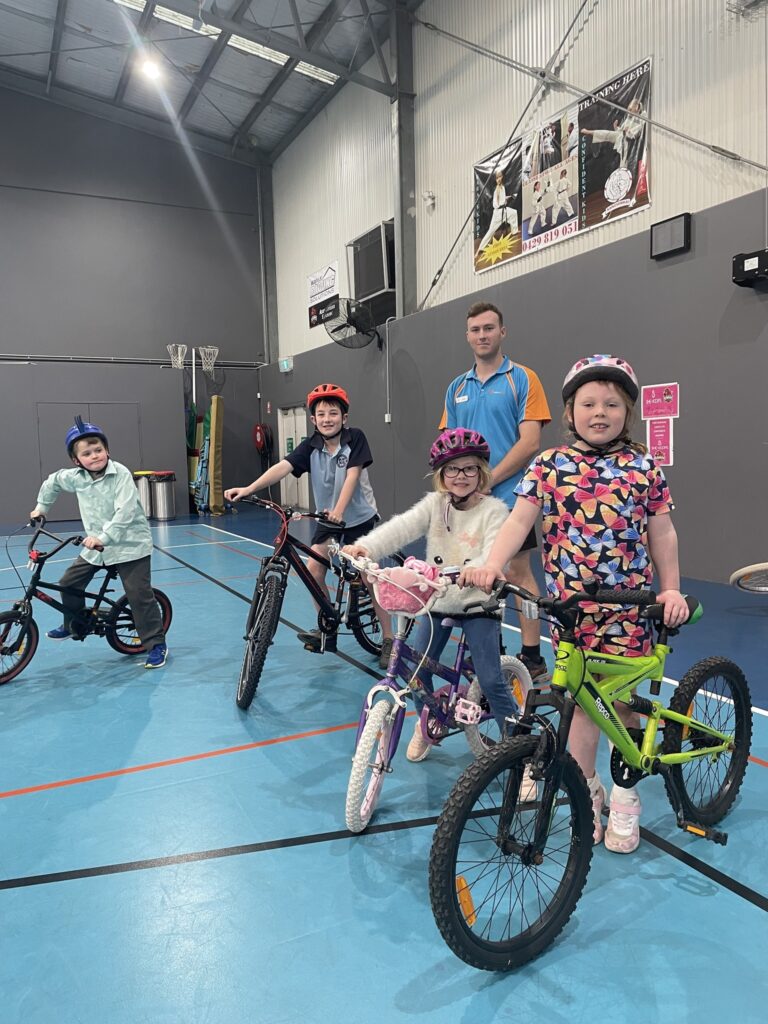 The Belgravia Leisure team and students enjoy the AusBike program at Wollondilly Leisure Centre.
Participating venues for Term 4 include the Loftus Recreation Centre, Ascot Vale Leisure Centre, Wollondilly Leisure Centre, Michael Clarke Recreation Centre, Michael Wenden Aquatic Leisure Centre, Whitlam Leisure Centre and the Burpengary Regional Aquatic & Leisure Centre. These venues will serve as hubs of fun and learning, where children can develop the foundational skills needed for a lifetime of cycling adventures.
AusBike's evidence-based framework, CORE4Skills, provides a structured approach to developing fundamental bike skills. The program caters to children of all levels of experience, whether they're just starting out on training wheels or are well on their way to becoming confident riders.
Marne Fechner, CEO of AusCycling, believes that AusBike is a game-changer for Australian children and parents alike.
"With such a staggering decline in active travel to school, we believe AusBike will help to not only build confidence, but also see people fall in love with bike riding again and see participation in activity grow.
"We've involved a broad range of experts to develop this program to ensure it is beneficial for both Australian children and their parents, and we know AusBike will set the standard for introductory programs for sport participation," Marne said.
The Australian Sports Commission (ASC), a supporter of AusBike, recognises the immense value of programs like these in promoting physical, mental, and social health among Australians. Kieren Perkins, CEO of ASC, stated, "We believe that sport has a place for everyone and by catering for children at any stage of their bike riding journey, AusBike will encourage children that may not have hopped on a bike before to give cycling a go."
With more than 5,000 children already having experienced AusBike during its pilot phase, this initiative is set to make a substantial impact on the lives of Australian children. The goal is not only to help kids build confidence on two wheels but also to do so safely, all while having a blast.
As Australia's youth embark on this journey with AusBike, they're not just learning to ride bikes; they're discovering freedom and adventure, one pedal at a time. AusBike's official launch is just the beginning of a brighter, healthier future for our children. So, gear up, Australia—let's get pedalling!
Enrol your child in AusBike today and kickstart their journey to cycling confidence, fitness, and adventure. Learn more and register here.