It keeps you fit and toned, but is fun and relaxing. You can do it alone or with the whole family, whether you're able-bodied or physically impaired. You can go in summer or winter, close to where you live or in harbourside locations with some of the most stunning views in Australia.
We're talking about swimming. These are the 10 reasons why recreational swimming at any Belgravia Leisure indoor or outdoor centre is the best, most accessible and affordable activity for your family.
1. The best way to cool off during a hot Aussie summer
It's obvious, but let's face it, this is why recreational swimming at your local swimming pool is the quintessential Aussie family summer activity. Nothing beats a dip in an open-air pool on a hot day with a cold drink or an ice cream afterwards. In pools like the Fanny Durack Aquatic Centre in Petersham, you can even book the barbecue area for a picnic. Or you can soak up the sun while admiring million-dollar views from some of the outdoor harbourside pools like Cabarita Swimming Centre or Andrew (Boy) Charlton Pool in Sydney.
2. It truly engages the whole family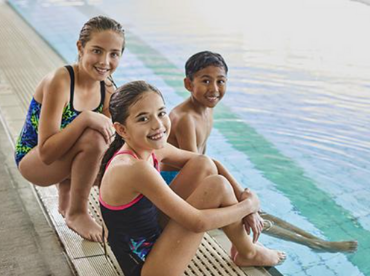 "People think that recreational swimming is only for the kids, but it's not – it's actually family bonding, it's having fun in the aquatic environment and enjoying it while keeping up your fitness," says Michelle Young, the National Aquatic Manager at Belgravia Leisure. No other recreational pastime can engage the whole family like recreational swimming. What else could excite toddlers with their first splashes in a wading pool, keep teenagers happy with a place to hang out and have fun with friends, give parents a chance to de-stress and train to stay in shape, and inspire grandparents to stay active – all in the same spot? Nothing even comes close.
3. It's not a term-based activity but lasts all year round
Recreational swimming is much more than learn to swim classes. In addition to many family and open days at your local leisure centre, the summer period is packed with events for everyone. Coming up in November and December is a series of indoor triathlons for ordinary people. And in January, we'll see the return of the Lap Australia challenge, which encourages you to pledge a distance you're prepared to swim for one of eight teams to help collectively swim 35,877km – a full lap of the country. For parents wondering how to keep their kids from many sedentary temptations such as computer games, smartphones and Netflix over the summer holidays, a local aquatic centre will lend a hand, with so much that will keep them interested and active.
4. Recreational swimming has a workout for everyone
If you want to get lean and toned, swimming is perfect because it's a combination of cardio and resistance exercise (the water provides resistance, so swimming is almost like lifting weights in the water), which means you'll burn calories and tone your muscles. But unlike high-intensity training, lifting weights or running, recreational swimming is extremely gentle on your joints and you can do it at your own pace, which makes it perfect for seniors and even pregnant women. "When you swim recreationally, you're actually helping keep and sustain your fitness levels, using all your muscles without any jarring or anything else, so you can actually do a really good workout in the water," says Michelle.
5. There's a swim app for your fitness goals
Want to get fit with swimming, but not sure what to do? Easy! Download Swimming Australia's iSwim app to your Apple or Android device, pick your fitness goal and the app will suggest a training program to follow. Developed by Swimming Australia, it links with your fitness tracker to track your laps and provides swimming tips and even live lessons from Olympic swimmers. Best of all, it caters for everyone, from young squad swimmers to seniors who want to improve their strokes, and also offers nutritional and motivational tips. 
6. You can keep swimming over a lifetime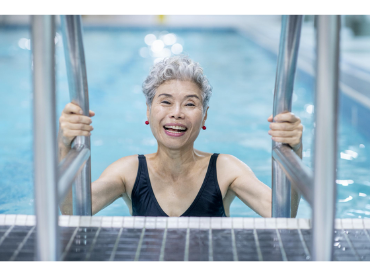 Longtime lap swimmer John Peake says: "Swimming is a great thing for elderly people to do. It's something you can start off very young and do your whole life, and get so much benefit from it." The 75-year-old, who swims at the Cabarita Swimming Centre in summer and nearby Drummoyne Swimming Centre in winter, is a walking example of recreational swimming's benefits. At his age he can still do 20 laps (or 1km) three times a week, which would make him fitter than most people half his age. "I'm slowing down a little bit, but you just feel better when you do it. It keeps me out hospitals and toned up, if you like," he adds.
7. It's perfect for rehab and injury prevention
Since it's a low-impact sport, recreational swimming is ideal if you have arthritis, have had surgery or carry an injury. You can do your physio exercises in warm water pools, where buoyancy takes the pressure off injured areas, while providing resistance to strengthen them. But few people realise that swimming is also fantastic for injury prevention. For those who do lots of weight-bearing exercises such as running, jumping or lifting weights, it gives their joints a chance to recover. It's why many football teams use pools for recovery after matches. 
8. It's like relaxation therapy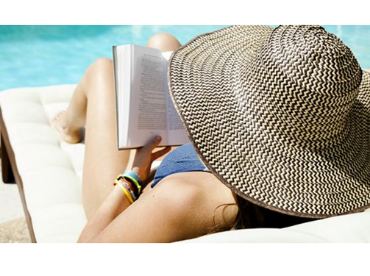 When you're swimming, the reduced external noise and visual stimuli can help you focus on your thoughts, making your mind very sharp and calm. Retired Olympic champion Stephanie Rice recently pointed out that she still swims daily because it's a great way to practise mindfulness. On a physiological level, swimming can release natural feel-good compounds called endorphins and soaks up excess fight-or-flight stress hormones. Sports psychologist Aimee C Kimball, Director of Mental Training at the Center for Sports Medicine at the University of Pittsburgh Medical Center, says swimming can decrease both anxiety and depression.
9. It's a great way to socialise
Many pools are becoming gathering places for the local community. In Petersham, Sydney, Snezana Stancic takes her four-year-old son to the Fanny Durack Aquatic Centre for swimming lessons, but also catches up with friends there. She says the pool has become a key element in the social life of young inner city families, part of a social circuit that includes visits to Petersham Park next door and lunch at the Petersham Bowling Club.
10. Swimming is the best bang-for-buck health and leisure activity there is
There is simply nothing else that provides so much healthy activity and leisure for every member of the family, in the same place, at such an affordable cost. If you have a Belgravia membership for learn to swim, you get free access to pool facilities throughout the summer.
That has to be the easiest, most affordable way to have an active and fun summer this year.