On October 11th and 12th, 2023, the Melbourne Cricket Ground (MCG) was the backdrop for the Belgravia Leisure VIC/TAS Conference. The conference celebrated our team's dedication to excellence in the leisure industry and our enduring mission of ensuring that everyone in our communities is connected to leisure.
Day one of the conference commenced with an Acknowledgment of Country, paying tribute to the rich cultural heritage and traditions of the land upon which we gathered. A warm welcome from Kara Monaghan, our VIC/TAS State Manager, followed, setting the tone for a truly inclusive and collaborative experience.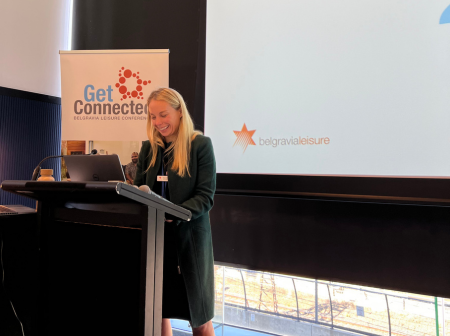 A series of insightful speakers took the stage, delving into various aspects of our business and the leisure industry, sharing valuable insights, and inspiring us all with their wisdom and experiences.
The highlight of the day was the prestigious Belgravia Leisure awards ceremony. The awards commenced by recognising the hardworking professionals who have dedicated over a decade to making a difference in their communities with Belgravia Leisure.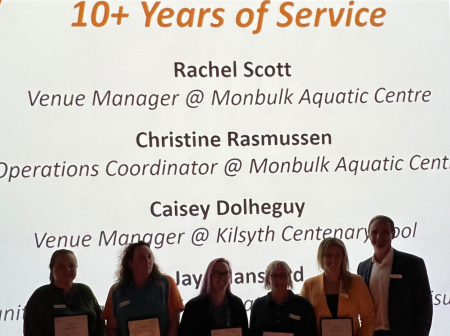 Among these dedicated individuals were Rachel Scott, Venue Manager at Monbulk Aquatic Centre, Christine Rasmussen, Operations Coordinator at Monbulk Aquatic Centre, Caisey Dolheguy, Venue Manager at Kilsyth Centenary Pool, Jaye Hansford, Community Engagement Coordinator at Ascot Vale Leisure Centre, Karla Barnes, Venue Manager at Swan Hill Leisure Centre, and Linda Fernando, Customer Service Coordinator at Monbulk Aquatic Centre.
Their unwavering commitment to providing top-notch leisure services is truly commendable. 
Our VIC/TAS Clear Award Winners 
Belgravia Leisure is deeply dedicated to our CLEAR values, which serve as the guiding principles for our organisation. We honoured our outstanding team members who exemplify these values during the awards ceremony. Our COO, Anthony McIntosh, and CEO, Nick Cox, presented the awards to our winners.
Our winners included Greer Smith, who received the Customer Focused Award for putting customers at the center of everything. Dave Antonello received the Leadership Award for exemplifying passion and integrity in leadership. Lauren Shaw received the Excellence Award for her dedication to striving for excellence in service delivery. Lauren McCarthy received the Accountability Award for keeping promises. Lesley Grimes received the Results Award for outstanding results for clients and customers. These individuals showcase what it means to be a part of our Belgravia Leisure family.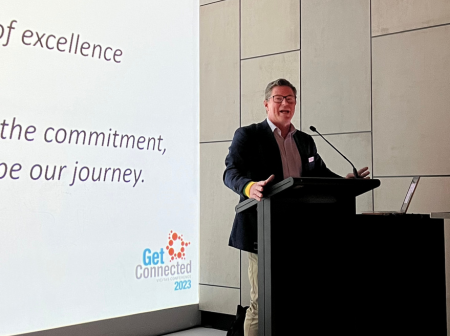 The second day of the conference began with a welcome from Chris Worsnop, our VIC State Manager, who recapped the first day's highlights and set the stage for a day filled with excitement and learning. 
The heart of day two of the conference lay in the stream sessions, which focused on specific areas of our operations. These sessions, led by national and local leaders, allowed attendees to deep dive into their respective areas of interest. These included Health and Wellbeing, Aquatics, Wellness, and BelgraviaPRO.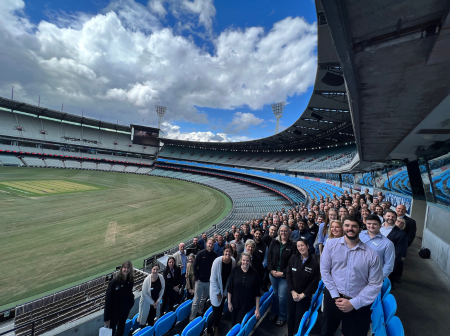 A networking afternoon tea allowed participants to unwind and share their experiences with their peers before heading home. Teams returned to their venues inspired and motivated, ready to share insights with their extended teams and continue providing exceptional services to our communities.
Watch our recap video above — we are already excited about the rest of the conferences to come!