As we head into the Easter holidays in the midst of enforced social isolation, it's important to remember the toll that the pandemic could be taking on the children and young people in our lives.
This is an uncertain time for everyone, and some children may feel the impacts of fear and anxiety from a parent, or sometimes both parents, losing their jobs. Young people may also struggle with the loss of physical interaction with their social circles.
If, when speaking with a child or young person about the pandemic, you sense they are getting increasingly distressed, reassure them and end the conversation. It is important to note that children may cope and react to uncertainty in a different way from adults. They may seem anxious and clingy, have problems sleeping, wet the bed, or the uncertainty can be shown in a physical symptom such as stomach aches or headaches.
Creating more certainty can help support children and young people through COVID-19. Some helpful hints include:
Include your children in plans and activities at home
Be honest about your own feelings about the situation and let children know it's okay to share their own feelings
Give children extra attention and reassurance. Try to minimise exposure to media and social media where children may become overly anxious.
Answer any questions that children may have with plain language appropriate for their age – be honest but don't include details that may cause distress or anxiety
Be understanding and provide reassurance if children have problems sleeping, throw tantrums or wet the bed.
Children look to their parents to feel safe and as a guide for how to respond in uncertain situations. It is important to reassure them that it is normal to be worried and upset, but that you will all be fine together.
Routines are important for children during uncertain times. Try to keep to fixed meal times and bed times and allow children to burn off their excess energy during the day.
If a child begins to display worrying behaviour such as extreme withdrawal or terror, or has difficulty sleeping for an extended period of time, seek help early.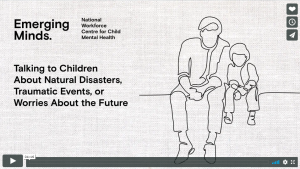 Some helpful online resources
https://www.beyondblue.org.au/the-facts/looking-after-your-mental-health-during-the-coronavirus-outbreak
https://www.lifeline.org.au/get-help/topics/mental-health-and-wellbeing-during-the-coronavirus-covid-19-outbreak
https://www.health.govt.nz/our-work/diseases-and-conditions/covid-19-novel-coronavirus/covid-19-novel-coronavirus-health-advice-general-public/covid-19-wellbeing-alert-level-4
https://d2p3kdr0nr4o3z.cloudfront.net/content/uploads/2020/03/25085239/Helping-children-cope-with-COVID19.pdf