Belgravia Leisure's Guest Experience Solutions team has collaborated closely with Mill Park Leisure and our Contact Centre team, demonstrating how the integration of Artificial Intelligence (AI) can significantly enhance our guest's experience.
One of the most noteworthy indicators of success is the impressive shift in their Net Promoter Score (NPS). Mill Park Leisure's NPS was at a concerning -5.6 in March, signalling room for improvement. However, by July, this score had skyrocketed to an outstanding +32.76, demonstrating a substantial increase in guest satisfaction and loyalty.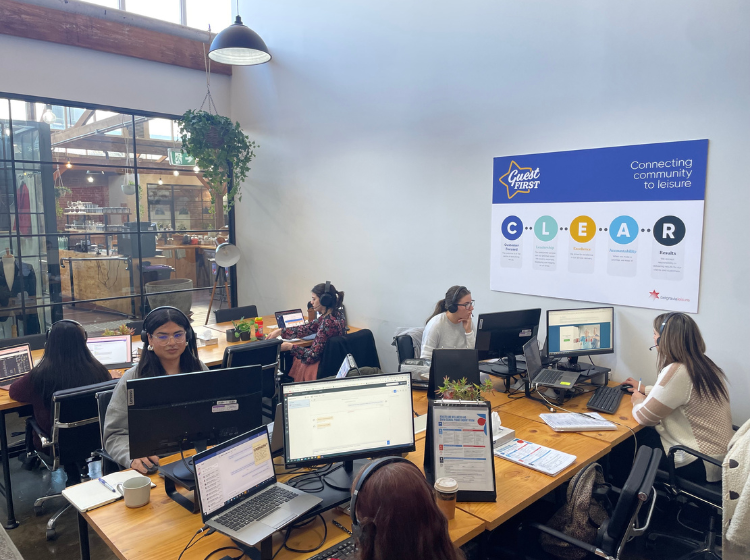 Pictured: The Belgravia Leisure Contact Centre team.
In today's fast-paced world, where guest expectations continually evolve, we must adapt and innovate to provide seamless, efficient, personalised services. The team recognised and proactively addressed this need, leading to these remarkable operations and guest satisfaction improvements.
The centrepiece of their AI-driven strategy is the introduction of a self-service Interactive Voice Response (IVR) phone system and a chatbot. The chatbot, in particular, has proven to be a valuable addition, earning an 80% positive rating and consistently achieving scores of 4 out of 5 or higher. This innovative approach streamlines interactions and frees up resources for more critical tasks.
One of the most notable impacts of these changes has been the reduction in reception calls. Mill Park Leisure experienced a remarkable 48% decrease in incoming calls to their reception. This reduction has not only improved the efficiency of the venue but also enhanced the overall guest experience by reducing wait times and ensuring that staff can devote more attention to in-person interactions.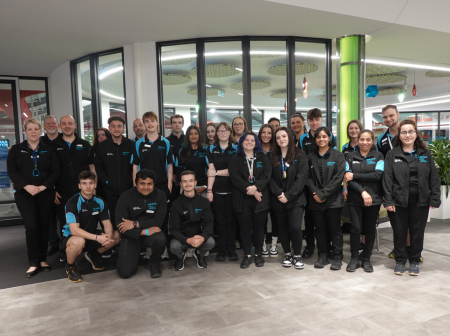 Pictured: The Mill Park Leisure Team.
Mill Park Venue Manager James Pearce highlighted the venue's significant challenges before its AI-driven transformation explaining, "Excessive phone calls were negatively affecting our ability to provide seamless customer service, especially during peak hours.
"Our Guest Experience Officers (GEOs) were often overwhelmed with phone calls, limiting their capacity to serve guests present at the venue effectively. The absence of self-serve options for tasks such as membership cancellations, suspensions, and makeup lesson bookings led to lengthy conversations and complications," James said.
To overcome these challenges, Mill Park Leisure implemented several strategies. The introduction of a call queue system allowed them to expertly manage incoming calls, ensuring that each call was directed to the most suitable team member. This change led to a 48% reduction in the volume of venue calls, demonstrating its success.
Additionally, the venue empowered its members with self-serve options, enabling them to independently handle membership cancellations, suspensions, and makeup lesson bookings. This digital transformation has been well-received, with 32% of callers opting for this convenient mode of interaction.
The integration of the Activeworld platform for makeup lesson bookings has also significantly improved transparency and comprehension of terms and conditions among parents, effectively eliminating potential misunderstandings.
Belgravia Group Guest Experience Manager Tim Hutchison said, "This is perhaps one of the most remarkable transformations in the way GEOs engage with members and guests. With reduced phone call volumes and more efficient processes, GEOs can now invest more time in fostering positive and personalised interactions at the front desk. This shift has added a new dimension of warmth and customer-centricity to the overall experience at Mill Park Leisure.
"This demonstrates the immense potential of AI-powered solutions in transforming our guest experiences. The significant increase in NPS, the successful integration of chatbots, and the optimisation of resource allocation through technology all show the future of customer service," Tim concluded.
Visit the Mill Park Leisure website here.