Nestled 5km out of busy Byron Bay where travellers are spoiled for choice when it comes to accommodation options, Suffolk Beachfront Holiday Park could easily be overlooked. It is difficult, however, to overlook the online reviews which tell the same story again and again; this park is a hidden gem and the guest experience is nothing short of exceptional.
Which is why, in front of over 1,000 industry delegates at the 2023 Caravan Industry National Award dinner on the 12th of May, the park was awarded silver in the highly acclaimed Review Pro People's Choice Caravan Park of the Year Awards, confirming that this park is indeed the second most popular park in the country when it comes to guest experience.
Managed by Belgravia Pro (BPro), Suffolk Beachfront Holiday Park is a part of a wider network of over 40 holiday parks (including eight Pure Glamping sites) under management across Australia and New Zealand.
Karen Golden, GM Tourism and Wellness at BPro accepted the award and expressed that she felt privileged and honoured at this remarkable accomplishment.
"This recognition is a testament to the outstanding devotion, passion and unwavering commitment of our management team on site, and I'd like to express my sincere gratitude to them. Suffolk Beachfront Holiday Park has become a destination in its own right, with guests returning over and over again. Yes, this park is in a stunning beach front location and the amenities are amazing, however it's our dedication to the guest experience which stands out above everything else".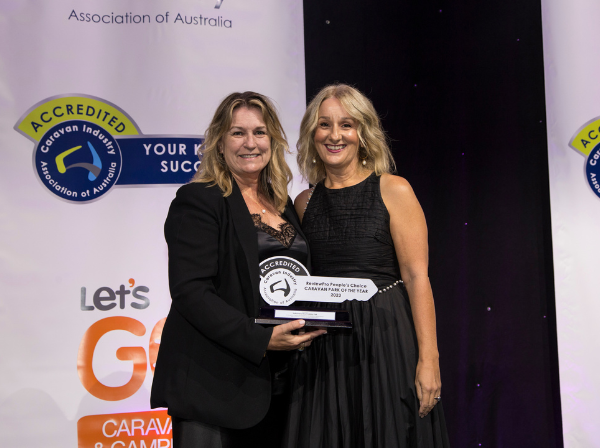 Suffolk Beachfront Holiday park offers a range of accommodation options including safari camping tents, self-contained cabins and space for caravans and campers. The grounds are exceptionally presented and there is a culture of happy and helpful staff, whereby guests are made to feel like family.
"Of course, it is also testament to BPro's dedication to the guest experience via our Guest First training program and award-winning guest experience processes, as well as the adoption of a centralised feedback system through Review Pro and our commitment to creating a sense of community in each and every park we operate", continued Karen.
"I'd also like to acknowledge the other winners in this category as well as thank the guests who took the time to share their experiences; we continuously listen and learn from you and without you, this would not have been possible".
Belgravia Leisure National Guest Experience Manager Tim Hutchison acknowledged that the numbers speak for themselves, saying, "Review Pro's Global Review Index for Suffolk Beachfront Holiday Park stands at an incredible 96%, against a Tourism and Events Qld industry benchmark of 80%. Additionally, over 700 post-stay survey responses from our guests rated the overall experience 4.75 out of 5, which is a result that certainly validates the business prioritising 'guest centricity' as a priority.
"Our guest centric philosophy is based on having a vision of putting our guests first by being welcoming and creating unique and memorable moments. This philosophy is also embedded in our dedicated training program Guest First, which is designed to shape and evolve a universal company framework through prioritising guest centricity into everything we do".
Karen concluded, "This remarkable accomplishment will no doubt serve as an inspiration for us to further elevate our standards to ensure that every guest enjoys an extraordinary stay at not only this beautiful park, but all of our parks across Australia and New Zealand".
The feedback speaks for itself:
We always love coming to Suffolk Beachfront Holiday Park – it always feels like coming home, there are not many of these wonderful caravan parks left, right on the beach, grounds are beautiful, camp kitchen is excellent, toilets are always clean, and staff always friendly – if you want a beautiful place to unwind and reconnect this is the place. Fiona, Suffolk Beachfront Holiday Park guest, July '22
The location is perfect, less than 10 minutes to the town. The place is impeccable! Clean everywhere! The staff is just THE BEST! Since the moment I contacted the Manager to reserve I felt the kindness and genuine connection from all the employees. Alejandra, Suffolk Beachfront Holiday Park guest, Dec '22