Changing lives is part and parcel of being a part of the team at Gympie Aquatic and Recreation Centre, which is why the venue is up for not one, but two national awards at the prestigious AUSactive 2023 awards on 15th September.
After feeling isolated in her rural community, ten years ago Amy Price-Wilson walked into her local gym and attended her first group fitness class. Today, as Gympie ARC's Health Club Coordinator and Access and Inclusion Coordinator, Amy is a Qld finalist for the National Aqua Professional of the Year Award, and hopes are high for her to bring home the national title.
In addition to Amy's already admirable achievement, the whole team at Gympie Aquatic and Recreation Centre have another national award to pin their hopes on, as the venue has been announced as a Qld finalist for the National People's Choice Award: Large Sized Business.
Amy is thrilled to be recognised for her work in a role that she loves as she helps other to change their lives through improving their physical and mental wellness.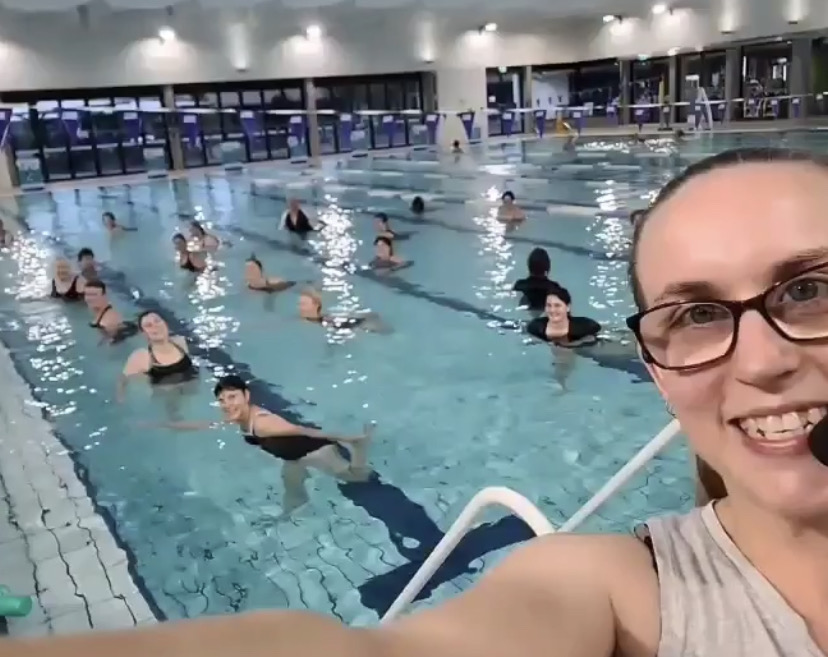 "My personal connection with group fitness will always have me coming back for more, both as an instructor and a participant. Getting through the door, seeing familiar faces, and moving our bodies because we can, improves our physical health but also has a profound impact on our mental wellness.  
"I love daily interactions, with members seeking me out for exercise and recovery guidance, or even just a chat. Every time someone tells me I have helped to change their lives, the way my own was once changed, it reminds me of my reason for doing this and keeps my spark alight."
As a finalist in the AUSactive Awards, Belgravia Leisure's Amy Price-Wilson serves as a source of motivation and encouragement for all to keep pushing the boundaries of what is possible in the health and leisure industry, and to keep inspiring the local community to work towards a healthier lifestyle. 
Di Major, Venue Manager for Gympie ARC is proud of all that Amy has achieved.
"Amy is an amazing coach, who constantly inspires us to improve our health and wellness. Her positive attitude and enthusiasm are an integral part of our wonderful team culture, and crucial to creating the community-centric atmosphere we have at Gympie ARC.  
"As a team leader, Amy strives for excellence, setting a fantastic example and motivating our team. Her passion for helping others is obvious in the way Amy interacts with everyone, and it's always emotional hearing personal stories from members about how their life has improved with Amy's help." 
On Gympie ARC's nomination for National People's Choice Award: Large Sized Business, Ms Major continued; "Gympie ARC is a community hub for our regional area, with health and wellness programs to suit a diverse range of members and guests. We are an accessible site, focused on inclusion and encouraging our community to connect for their physical, mental and social health. We also work with community groups to assist in providing programs to meet the needs of their members.
"It is an honour for our Belgravia Leisure team to manage Gympie ARC on behalf of Gympie Regional Council. Our team are locals who care about our community, and we strive for excellence in everything we do. We look forward to continuing this partnership and building further connections to engage and assist our local community."
Attracting thousands of applications each year, a national AUSactive award is considered the pinnacle of the country's health and exercise industry achievement. Formerly known as the Fitness Australia Awards, they have a proud history of recognising and celebrating the outstanding achievements of the Australian health and exercise industry.  
Belgravia Leisure looks forward to the National AUSactive Gala Night on Friday, 15 September.