As Australians take leave to celebrate the end of the year we pause to remember those loved ones who are no longer with us and cherish those who remain.
In Sydney, the staff of Annette Kellerman Aquatic Centre gathered for a ceremony to remember a much-loved colleague who tragically passed away earlier this year, aged 29.
His name is Hayden Mullaney, and he touched thousands of lives throughout the Inner West community. Hayden was a much-loved member of the centre for more than seven years through his personal training and other leisure activities.
The Inner West City Council organised a tree-planting ceremony at the centre in Hayden's honour on December 21, a touching tribute to a loveable larrikin.
We thought we'd share a speech from Rosie Keogh, the centre's Aquatic Services Manager, who spoke of a man whose untimely death sparked an outpouring of grief in the community.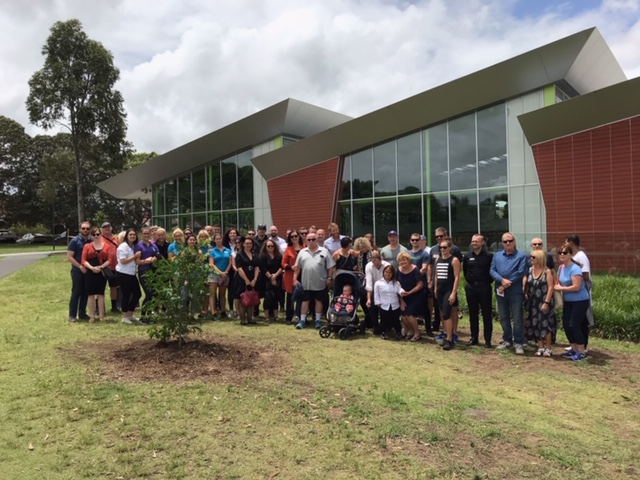 Rosie's speech
"When Peter initially spoke to me about organising this for Hayden, we both had an image in our head of a small intimate gathering. I should have known that wouldn't be the case, nothing about Hayden could ever be described as quiet or low-key.
Always up for laugh and constantly putting smiles on everyone's faces, Hayden made so many connections within the centre.
Whether you were one of his long-term PT clients, some of his boot camp participants or a casual gym-goer, Hayden made sure to make you feel welcome at Annette Kellerman.
Hayden loved striking up conversations with people and making connections through personal interests.
This really became apparent for us at the centre in the weeks following his death when there was such an outpouring from so many people whose lives he had touched.
I have been lucky enough o not only call Hayden a work colleague but also a friend for the last four years.
Working at Annette Kellerman is like being part of one big family and Hayden was the cheeky big brother to us all. It didn't matter what he was doing Hayden would happily help out wherever he was needed and would be sure to make you laugh while doing so.
Hayden was so busy between his work at the centre and the family business but he still always made time for a chat and to get to know everyone on a personal level.
Whether talking to a 17-year-old lifeguard about soccer or trying to set you up with one of his friends, after speaking with Hayden you always left the conversation feeling like he cared and with a smile on your face.
Having such deep personal connections with people is one of the reasons he got away with so much at Annette Kellerman.
Whether it was taking people's coffee cups and eating food that didn't belong to him, no-one could angry at Hayden. He is one of the few people I have known that I can honestly say that got along with everyone.
Hayden had a larger than life personality and has been the face of the centre for the last seven years.
He has been loved by the many staff and patrons that have walked through our doors and is missed dearly by all that are still here.
We have been left with a big hole in our centre but we feel privileged to have been able to share a [part of our lives with Hayden.
I would just like to thank Inner West Council for organizing this commemoration and for recognizing Hayden for the legacy he left behind, and the impact he had on the wider community."