Belgravia Leisure's General Manager New Zealand, Mark Blake and his team are set to pedal 4,828km across America to raise over $100,000 for children and youth charities in New Zealand. Mark is part of a team of four Kiwis, Team NZBLUE, participating in the gruelling Race Across America (RAAM) to support several charitable causes.
We are thrilled Mark has decided to support Belgravia Foundation Aotearoa. The foundation aims to connect all to leisure, recreation, fitness, health, aquatics and community sport so everyone can live healthy and happy lives, ensuring no one misses out!
Accessing the Team NZ Blue page and making direct contributions would be greatly appreciated. With an aim to raise $25,000 in donations so that team New Zealand can continue their crucial work of facilitating swimming lessons for blind and low-vision children. This opportunity is open to our colleagues from both New Zealand and Australia.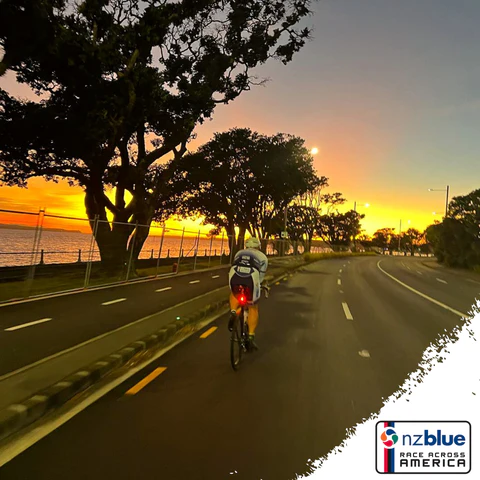 Mark and his team are motivated by the opportunity to positively impact children and youth in their home country of New Zealand; however, it's not all fun and games. The race is a significant challenge, with riders facing extreme weather conditions and sleep deprivation as they cycle non-stop from coast to coast. In addition to trees that 'jump out in front of you' as illustrated in the picture above!
"We have had accidents and a few falls, but it's never stopped the team. I'm excited and honoured to be part of Team NZBLUE, raising funds for children and youth charities through the Belgravia Foundation Aotearoa. The challenge of cycling across America is nothing compared to some of the challenges faced by the kids we'll be supporting. It's an opportunity to make a difference and give back to our community," Mark said.
RAAM commences from 13 June – 17 June 2023. To complete the race within the time limit, riders must average around 500-700kms per day, meaning, as a team, they must ride up to 22 hours daily.
The team's dedication to improving the lives of children and youth in New Zealand is truly inspiring — their efforts in the Race Across America will undoubtedly positively impact many children's lives.
Mark's commitment to the Belgravia Foundation Aotearoa's mission is commendable. We wish Mark and his team all the best as they embark on this challenge, and we encourage everyone to show their support for this fantastic cause.
You can support Mark and NZBLUE on their website here.