Geelong Golf Club, the winner of the Regional Pro Am of the Year in 2020, was back to defend its title with another 9-hole event. The day was very busy, with 180 golfers participating, which included 120 amateurs and 60 Professional Golfers from Victoria, Queensland, New South Wales and Korea.
Two of Geelong Golf Club's very own Professionals played in the event, with Paul Christie shooting 1 under par to finish 12th and Storm Ord playing in his first professional event shooting 3 over par.
Chris Wood from Queensland finished the round with birdies on the 8th and 9th to shoot 5 under par and won by a shot over Darren Bowman, who was 6 under through 7 holes – after he dropped shots on the same holes.
As the current Victorian PGA Champion, Chris will use this event to fine-tune his skills in defence of his title next week at Moonah Links. Chris said, "It's great to get a win and some confidence heading into next week."
On the amateur side, all 3 grades were hotly contested.
The C–Grade winner was Mike Johns over Darcy Nolan and Jason Orr.
The B-Grade winner was Robert Sobevski with 24 points over Kain Hepburn and Craig Canning.
The A–Grade winner was Matt Dawson on a four-way countback with 19 points.
Paul Christie – PGA Member and Golf Club manager said, "The event was again, a huge success for the club, the members and the sponsors, whom we would like to thank for their continued support to make this event one of the best in Victoria".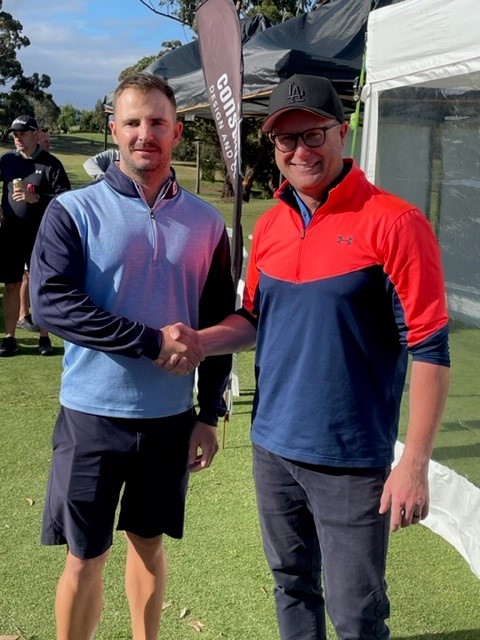 Special thanks to the following sponsors that made the event possible:
MMD Property Maintenance, Sphinx Entertainment, Little Constructions, Pizza Bar, Belgravia, Geelong Concrete, Mist Heating and Cooling, Turnpoint and John Orr and Son Master Builders.