We do all kinds of things to take care of ourselves, like exercising and eating well but self-care and skincare are often overlooked. Valentine's Day is only a couple of weeks away (Monday, 14 February) so we think it is time to spoil YOURSELF and fall in love with your skin!
Highlander Minerals has created a special Valentine's Day Self-Care Bundle for you to indulge in a spa-like experience from the comfort of your own home.
Here are some more ways to practise some self-care ahead of Valentine's Day.
Falling in love with your skin and practising some self-care
Enjoy nutrient dense foods to protect again free radicals and pollutants
Stress, unhealthy food habits, excessive sun exposure, pollution, cigarette smoke, alcohol can form dangerous amounts of free radicals that can damage the DNA and promote unhealthy skin and ageing.
Here are some food habits to adopt to help defend your body against free radicals.
Eat plenty of vegetables and fruit every day.
Eat fish over meat. Fish is rich in the EPA and DHA omega3 essential fatty acids, great for your skin!
Generally, men need about 10 cups of fluids every day and women need about 8 cups (source: Health Direct)
Avoid fried foods, alcohol, smoking, pesticides and too much stress.
How can you avoid too much stress you ask?
Go on a self-care date with YOU this Valentine's Day!
Self-care is the process of taking care of yourself and might include things like moving your body every day, getting enough sleep, and taking care of your skin! It is essential to our overall wellbeing, but it is often overlooked (especially as women) we tend to put everyone else ahead of ourselves.
Take yourself on a date this Valentine's Day and give yourself the gift of ultimate relaxation and self-care with Highlander Minerals Deluxe Self-Care Bundle.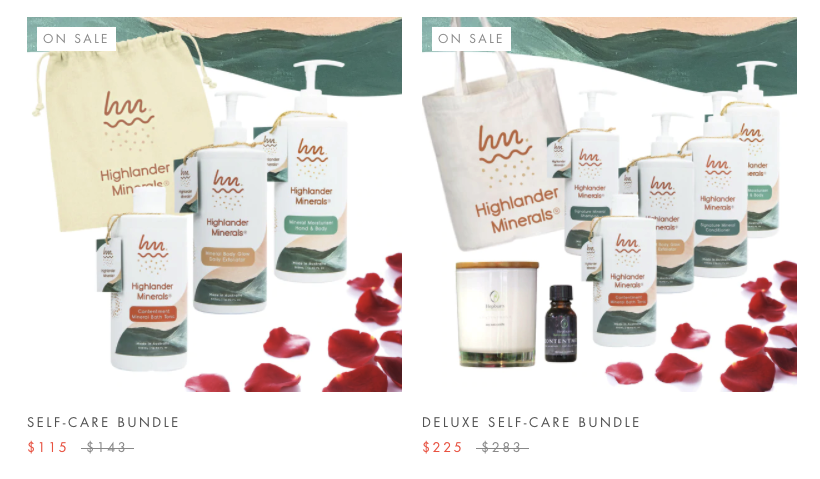 Enjoy some rest and relaxation with a nice warm bath and Highlander Minerals best-selling Contentment Mineral Bath Tonic made with Rose Geranium, Mandarin, and Patchouli pure essential oils. Complementing Contentment is a beautiful soy wax candle and pure essential oil blend from Hepburn Bathhouse & Spa.
Followed by gently towelling off and massaging your body in Highlander Minerals Mineral Moisturiser Hand and Body with a refreshing Orange, Grapefruit, Lemon and Lemongrass aroma.
Find out more about the products and treat yourself to Highlander Minerals Valentine's Day Bundles here.
About Highlander Minerals
Self-love and overall wellness are a central focus at Highlander Minerals, their wellness skincare range is made with mineral-rich waters from Victoria's Central Highlands. Highlander Minerals is all about celebrating Australia's native and organic ingredients in their wellness skincare.